Name: Ryan Bos
Self-described age group: 45-50
Residence: Washington, D.C.
Occupation: Executive Director, Capital Pride Alliance
Volunteer roles in the running world: Organized a challenging 8K trail and road race off of Lake Michigan, called the Tower Run.
Why you run: To stay fit, mentally healthy, and be able to indulge my sweet tooth for dark chocolate.
When did you get started running:  Playing night time team tag growing up in my neighborhood, as early as third and fourth grade.
Have you taken a break from running: Yes. I had some knee issues after high school, come to find out I needed a heel lift in my right shoe because my leg was shorter. More recently I took about 2.5 months off because of COVID-19 and a follow-up condition that had me in the hospital for about 10 days.
Training shoe: I am currently running in the Nike Epic React. Previous shoes include Asics Nimbus, Nike Pegasus, with my first shoe back in 5th grade an Etonic.
Coach or training group: Currently I do not have a coach or training group. I used to run with the D.C. Front Runners and plan to start running with them this summer.
The hardest race you've ever run: The 2007 Chicago Marathon. This year the temperature was over 100 degrees. They shut down the race, but luckily I had finished beforehand. Boston in 2012 was a close second when it was nearly 100 degrees.
Most adventurous decision you've made with your running: When I agreed to join my high school cross country teammate in running an Indiana team trail relay called "Dances with Dirt". The only course markings are ribbons and/of colored flags. Depending on the side of the trail, determines the directly you go. You have to be an efficient, but also an observant runner to not get lost.
Running mentors: Hal Higdon and Mary Taylor. Both were my high school cross country coaches.
My favorite place to run in the D.C. area is: I don't have one favorite place. That's what I love about running in this area. I can experience all types of running without driving or biking anywhere.
Favorite local trail: I would have to say Patapsco State Park up near Baltimore. The trails go deep in the woods with every terrain.
My best race was: My senior year during our all city cross country meet. This was one of my only wins in cross country. My second was the 2010 Philadelphia Marathon when I qualified for Boston.
Favorite local race: Ragnar Relay from Cumberland, Md. to D.C.
Ideal post-run meal: Pizza, beer and ice cream
Favorite flavor of gel, gu, etc: Vanilla. I should say chocolate, but the chocolate flavor is never good enough.
Pet peeve: People who run with their elbows out, especially at the beginning of a race.
Goals: I want to get back into marathon shape and maybe even do another triathlon. Long term, I want to be able to be run well into my 90s.
Your advice for a new runner: Enjoy it. Take advantage of nature and use running as your means to explore. One of the first things I do when I travel, is go for a long run to explore my new surrounding.
Favorite running book: Don't really have one, but I'll give a shout out to my high school coach Hal Higdon, who has written several books and created marathon training programs.
Song in your head during a run: "Push It, Push It really Good"
Have you dealt with a major injury: Just the typical ankle, runners knee, heel spurs, etc.
Why is the D.C. area a great place to be a runner:  There is so much variety. You can get city, suburban, and trail running in without having to drive or bike anywhere.
Recent Stories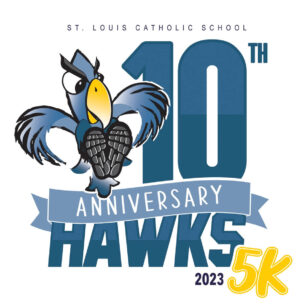 2023 will be the 10 year anniversary of the St. Louis Hawks 5K and Fun Run for Health & Wellness. The USATF certified course runs through the historic Hollin Hills neighborhood in Alexandria, VA.
The Hawks 5K goal, in conjunction