When Kristen Serafin felt like a failure, running helped come back. Twice.
The first time, it was on a monthlong road trip with her now-fiancé Erin Kelman. The second time, when it was even more complicated, it gave her insight and an incentive to share her experience and strive to come out of it more motivated.
Back in September, recovering in Garfield Memorial Hospital in Utah, Serafin asked her attending doctor what would sound like an insane question: Could she run Rim-to-Rim-to-Rim? A 47.5-mile run though the Grand Canyon and back, 10 days after losing a pregnancy she only learned about two weeks prior. To her surprise, she got the go-ahead to accompany Erin.
"He was practical about it, he told me 'you're going to be tired, you lost a lot of blood, but I think you can do it if you want to give it a shot,'" she said, "He told me I might need to bail, but there's nowhere really to bail.
"When I felt like I was a failure because I couldn't do this thing my body was supposed to be able to do, I still wanted to do something amazing."
Kelman had been planning to run alone, so having Serafin along was a bonus. The Germantown couple set off at 4 a.m..
"It was the hardest thing I've ever done in my life, I did get really tired, it did get really hard for me," she said. "When we hit 10 hours, it was the longest I had been on my feet, and we still had five hours to go, but I was totally depleted. Coming out of that experience, I knew I wanted to be with him–he was so supportive in every way. I didn't think two weeks before that I'd be in a position to run this with him, but I'm glad we had that experience, as sad as it was."
The temperature ranged from 40 degrees on the rim to 100 degrees at the bottom of the canyon, a detour added an extra four miles and some water sources were turned off. In the midst of the COVID-19 pandemic, sharing water with strangers was off limits, but the couple didn't get cold receptions from the people they came across.
"We would pass groups of hikers, and they could tell what we were trying to do," Serafin said. "They kept telling us 'you guys are amazing, you guys can do this,' and that meant more than they knew. In that moment, I felt so powerful, I felt so powerful with him. I felt like we were a team."
When they finished, it was pitch black, and they arrived back at the start to an empty parking lot.
"We finished this incredible challenge, and there was nobody to celebrate with us, it was just us," she said. "That felt right."
They wound down their trip over the next few weeks, and Serafin grappled with her next moves.
"It's really hard to figure out how to approach your running when you're trying to start a family," she said. "You constantly wrestle with "I you sign up for this race? Do I start a training cycle? What if I'm pregnant right now? Should I not push it here? What if I push it can something bad happens?
"As a runner you train yourself to ignore discomfort, push though pain, keep going, but when you're pregnant, you're not supposed to. Doctors tell you it's fine to exercise, as long as it's comfortable, but you question yourself, everything you do."
She dropped out of the Stone Mill 50 Mile in November, concerned she might be pushing too hard if she was pregnant. Despite a lower training load, she set a PR of roughly 5:30 at the Dojo of Pain Marathon in December, missing the 3:00 mark by less than 30 seconds. In January, she signed up for Wyoming's Bighorn Trail Run, her first 100 mile race, set for June in Wyoming. Then a few days later, she was pregnant again. And almost as quickly, her hips began hurting to the point that she dropped to 10 miles a week, if she was lucky.
"I don't usually get hurt, but that was my first sign I was pregnant," she said. "Cutting out running was tough, especially because that's how I socialize most of the time."
It was rocky from the start, though, and that necessitated weekly tests. Along the way she found out she was carrying twins, which figured to explain some of the hip pain. A later test showed the twins had stopped growing, telling doctors it was likely a missed miscarriage, one that would require surgery.
"But it's surgery you have to schedule, so we waited a week, with my body still thinking I was pregnant," Serafin said. "You beat yourself up because not only did this happen again, I this time I knew it wasn't my running that did it. You start to wonder what's wrong with me."
While she recovered, she came to two realizations. One, more women were experiencing pregnancy loss than she had realized, driven home by a Montgomery County Road Runners Club teammate who shared her own story with Serafin.
The outpouring of support from friends helped her focus on how she could best spin her misfortune.
"So many people asked what they could do, and the truth is you can't do anything, but there are people who need help," Serafin said. "I am lucky enough to have great insurance, but the billing department asked if I wanted to set up a payment plan, and I thought about all the people who have to revisit this every month, a surgery they didn't want for a situation that was terrible."
She set up a fundraiser for the Colette Louise Tisdahl Foundation, which supports families dealing with high-risk and complicated pregnancies, premature birth and neonatal intensive care unit stays and pregnancy losses. And, when MCRRC was able to get permits for the Seneca Creek Greenway Trail Marathon, she decided she would run. Despite running few weeks with appreciable mileage throughout the first two-plus months of 2021. Through March 23, she had rasied more than $4,200.
Starting at the back of the pack March 13, she and Kelman ran Seneca Creek together, holding hands and playing a sneaky game of Red Rover with runners they passed. It wasn't easy, but once the couple decided to go for 50k rather than the "marathon" distance, they gained some steam and finished in 5:44:23, which netted Serafin the women's title and some confidence as she focuses back on her 100 mile goal.
"I'm just going to go for it at Bighorn, but Seneca is a chance to show myself I can do this and honor the women who are going through this," she said before the race.
Her resilience motivated Kelman.
"I feel it too, not the same way she did, but she's been my rock," he said after Seneca Creek. "Seeing her bounce back both times has been inspiring."
He also credited her, hours after they left the hospital in Utah after her first miscarriage, with the foresight and awareness to ask him to stop the car, open the sunroof and take a minute to gaze at the clear night's sky, far away from the East Coast light pollution.
"We don't want life to beat us down," he said. "It's terrible, but let's keep moving ahead."
Recent Stories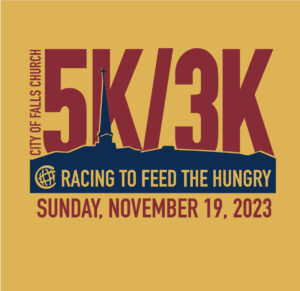 The out and back Falls Church City 5K/3K course is mostly flat on the W&OD Trail starting and finishing at 103 Columbia Street. Overall male and female winners earn free shoes and medals are awarded to all categories. Great family