Check out a food site and chances are the first thing you'll hit is a story, rambling about who knows what, forcing you to scroll through narrative to… just give me the recipe already!
Trust me, this story is worth it, and it will make the recipe even better. I'm sure they all say that, but this time, it's true. 
There are any number of factors that have made Charlotte Turesson one of the best runners in Maryland. The one she's most excited about sharing recently has been her menu.
If there's anything she gained from more time at home during her junior and senior years at Richard Montgomery, it's been more time in the kitchen and over the grill as she refines her mastery of different cooking styles.
"A lot of it came from my investment in being the best runner I can be," she said. "I've always been pretty passionate about eating healthy, trying to optimize my performance.  Once quarantine hit, it elevated my interest in cooking, trying new recipes." 
She uses Instagram to show her work a lot more often than she's clued people in to the workouts that helped her win the Maryland indoor 3,200 meter title last winter, following two runner-up finishes at the cross country state meet. 
"It definitely makes a difference in performance, but it's also just something that interests me," she said. "I always wondered how people could make delicious food that's also good for you. I've been finding that out."
A lot comes from trial and error, often substituting different ingredients and seasonings at first and then
Turesson hasn't had a nutrition class in school, but she's learned a lot of the fundamentals from her mother, Elizabeth. She's also leaned heavily on the internet, finding food bloggers whose palates match her own and exploring what they have to offer.
While she didn't choose Notre Dame for its dining services, she did cross off a few colleges when they didn't measure up. When she's done studying and competing for the Fighting Irish, though, she doesn't plan to pursue a culinary career.
"I want to be an FBI agent," she said  "Food is going to be a lifelong thing for me, and it will be more fun because it's my passion." 
She used to be a bland, utilitarian eater: Oats, bananas, chicken, rice. Once she breached her comfort zone, it was like water flooding a dam.The turning point meal was coconut crusted cod, with mango black bean salsa. 
"I would never think to make something like that," she said. "It really opened my eyes to what combinations of flavor would bring out in foods."
Variety is a staple, as she tries different fish and meats, she's really into elk and bison.
This doesn't mean she's above macaroni and cheese or spaghetti and meatballs, but if she's in charge, that meatball is going to have a twist to it. Before the last indoor state meet, she entertained the Rockets at her house with a make-your-own-pizza dinner.
"Our social culture is built around food," she said. "The more we can talk about what we like and why, the more we can learn from each other and try things we might like. It's good bonding"
She has a pre-race menu in her head:
Two nights before, she'll want to eat more, so she'd roast two big sweet potatoes along with chili lime chicken and some grilled brussels sprouts.
"I just love sweet potatoes," she said. "I can't get enough of them."
The night before the race, she'd go with something lighter — chicken fajitas. 
Turesson is proud of the breakthroughs she has made in techniques like grilling and specific foods like ribs and cornish game hen in an apple cider vinegar marinade. 
Her current craze, though, is tacos.
"There are just so many ways to make them," Turesson said.
For other high school runners looking to turn the heat up on their culinary skills?
"I'll teach you," Turesson offered. "A lot of it is just knowing your body and what you need. It takes time."
But it's worth it.
"Everyone has to eat, why not make it the best you can?"
Now that you've read that story, the recipe is going to be that much more meaningful. If there's anything Turesson makes that has won universal acclaim, it's her turkey burgers.
"Everyone in my family loves them, I can't make enough," she said. "I could eat five."
Grilled turkey burgers
      2 lbs organic ground turkey

      1 bell pepper, diced small

      1/2 leek or onion diced small

      1/2 cup freshly chopped cilantro

      1 cup finely chopped kale

      1 tsp pink salt

      1 tsp ground pepper

      1/2 tsp chili powder

      1/2 tsp garlic powder

      1 tsp italian seasoning
Blend the veggies in a food processor or dice small and combine all ingredients in a big bowl. Form into about 10-12 patties and cook on the grill on high heat for 3-4 minutes per side (make sure to oil the grates). Serve with burger buns and toppings of choice (I love using sweet potato buns)
Recipe for sweet potato buns
      large and fat Japanese sweet potato (or any kind)

      Salt
Preheat oven to 425° F. Wash and scrub the sweet potato. Cut into about 1/2 inch thick rounds and lay flat on a baking sheet. Sprinkle generously with salt and place in the oven for about 30 minutes. Sandwich a turkey burger in the middle and enjoy!!
Recent Stories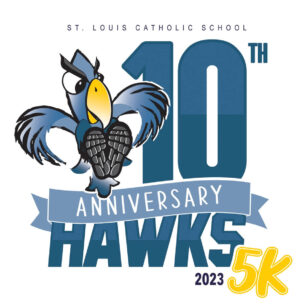 2023 will be the 10 year anniversary of the St. Louis Hawks 5K and Fun Run for Health & Wellness. The USATF certified course runs through the historic Hollin Hills neighborhood in Alexandria, VA.
The Hawks 5K goal, in conjunction