Ava Gordon was a little surprised when nobody else took the lead early into the girls' 4A race at the Virginia state cross country championships April 24.
VHSL Championship
April 24, 2021
Oatlands Historic House and Garden
Leesburg, Va.
1.Ava Gordon 18:49
2.Alli Crytser 18:55
3.Caroline Bauer 19:12
Though she had a bit of a target on her back, having won the race as a sophomore, she expected something a little more aggressive from Hanover sophomore Alli Cryster.
"I just wanted to feel the rest of the field out, but nobody really took the lead," Gordon said. "We just kind of hung off of each other, and that worked out for me."
Noting Cryster's tendency to push on the Oatlands course's downhills, Gordon expected a push in the last half mile and planned to stay just ahead of her before taking off on the long rolling uphill that makes up the last third of a mile.
"That worked out pretty well for me," Gordon said. "I knew I could finish really well on these hills. I held out to see what happened and it worked out."
"I felt secure on that long hill to the finish. I knew I just had to sprint and I'd be able to hold her off."
Gordon won in 18:49, with Cryster six seconds back, and Jamestown's Caroline Bauer third in 19:12.
"That the sign of a true competitor," Loudoun Valley Coach Marc Hunter said. "Alli is a talented runner and she had a shot at Ava late in the race, but when Ava was challenged, she responded."
Loudoun Valley won its third straight title, scoring 33 points to Blacksburg's 59, with all five scorers in the top 15 overall: Sophomore Scarlet Fetterolf (fifth in 19:28), senior Ricky Fetterolf (ninth in 19:57), junior Maddie Smith (12th in 20:16), senior Ally Talley (13th in 20:27), freshman Eryn Lackey, junior Cecelia Fetterolf (24th in 21:21). Tuscarora was third with 86 points.
Recent Stories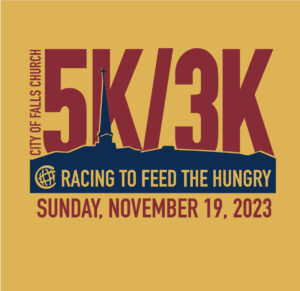 The out and back Falls Church City 5K/3K course is mostly flat on the W&OD Trail starting and finishing at 103 Columbia Street. Overall male and female winners earn free shoes and medals are awarded to all categories. Great family