It was a cultural shift for Christie and Joe Jones.
Not to moving Virginia after living in Honduras and Bolivia. Rather than sitting quietly and clapping between points on the tennis court, they were welcome to… nay… encouraged to make as much noise as they could as their son Matthew ran around cross country courses.
"It's a lot more exciting, you have a lot more adrenaline," Christie said.
Matthew played tennis throughout his childhood as his family rotated among U.S. Foreign Service postings. When the Jones came back to the United States for a few years, he planned to keep at it and signed up for club tennis in advance of his freshman year at Thomas Edison High School. Then, the pandemic canceled all sports.
Well, nearly all sports.
"We were allowed to do cross country conditioning," Edison assistant coach Nene Reed said. "Nobody else could hold practice, but we gave kids a chance to get together and work out safely."
Northern Virginia coaches considered holding steady with regards to participation to be a success, as most saw attrition, some heavy. Matthew Jones was a rare pickup for the sport.
"We ran 20 minutes the first day of practice and I was dying," Matthew said. "But I wanted to do it again."
He wasn't expecting to like it, but the chance to make friends starting at a new high school through a sport made it appealing to try. Then, he found he had a taste for it.
"Once I realized I could do it, I wanted to learn to get better," he said. "I liked practicing."
Christie saw his personality change a little.
"He liked to play tennis, but he wasn't really competitive," she said. "He wanted to learn all he could to become a better runner, he was thinking about what he could eat to be stronger, he was going to bed earlier."
The competitiveness appealed to him.
"I had more fun racing than just running," Matthew said. "I also like knowing I can improve, seeing where I started and where I am."
He started as a 21-minute cross country runner in March, eighth on the Edison team. By the Occoquan Regional Championships in mid-April, he broke 19 minutes at Burke Lake, finishing the 2.98-mile course in 18:51 and finishing sixth for this team, 68th overall.
Reed said the team was just hoping to keep him engaged as a freshman, with an eye toward him gaining experience for his sophomore year.
"But he just kept showing up," Reed said. "He sought out some older guys and they took him under their wing and taught him what it takes. He's really improved over the few months we've been racing."
Matthew still likes tennis, but sees a lot more that works for him with running,
"It takes more commitment, but it's easier to practice," he said. "You don't need a court or people to play with if want to just go running on your own."
He's drawn his younger two brothers into the sport, and his father, Joe, has taken up some jogging.
"Everyone said it was a tough season, but for us, it's a new season, we don't know anything else about a normal season," Joe said.
The family has another year before Joe's next Foreign Service posting takes them to Jerusalem, so in the meantime Matthew is focusing on how best to get the msot out of his last season at Edison.
"I'm going to work on my sprinting," he said. "I have the endurance, but I need to work on where I am not as strong."
Recent Stories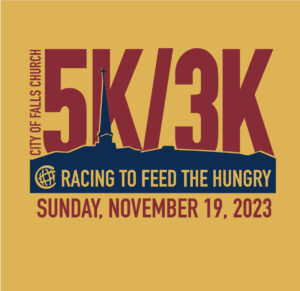 The out and back Falls Church City 5K/3K course is mostly flat on the W&OD Trail starting and finishing at 103 Columbia Street. Overall male and female winners earn free shoes and medals are awarded to all categories. Great family