Mud changes the dynamic at Glory Days Invitational
Thais Rolly, Gillian Bushee and Anna Macon Corcoran were content to cruise along during the Glory Days Invitational, working together to push the pace and covering ground. 
Then the ground got involved. 
Oct. 9, 2021
Centreville, Va.
With a little more than a half mile to go, the trio passed through the muddiest stretch of Bull Run Regional Park, the part that at times has forced the race to reroute, the part that claims dozens of shoes every race. 
"I got out of the mud and Anna and Thais were a little ahead, so I didn't want to lose ground  because they have crazy kicks," Bushee said. "I started chasing them."
That got the action started, and they battled it out as they rounded the long gradual climb to the finish.
"The mud was really bad, and it was the worst for us because we were the last race," Bushee said. "If I lost my shoe, I don't think I'd be able to untie the laces and retie them and get back into the race." 
Bushee and Rolly pulled away until about 300 meters to go, when Rolly got an edge. She was surprised she had that energy to give then, because she didn't run her usual race strategy. Rolly got an extra pre-race stride in when she realized she didn't have her race bib, but returned to the starting line without it, hoping the timing chip on her shoe would have her covered.
"I was very stressed because of that," Rolly said. "I usually start out really slow but I was so scared. I was in the front a lot earlier than I'm used to."
She held on for a 18:31 finish to win, with Bushee in 18:36  Corcoran finished third in 18:44.
"We all know we're around the same level, so it's just a matter of who feels best that day," Rolly said, noting that she, Bushee and Corcoran recently did a workout together at Burke Lake.
Bushee tried to catch Rolly at the end, haunted by being passed by Centreville's Camilla McKinstry there in 2019.
"The finish is closer than you think," Bushee said. "When you turn and see someone up that hill, there's not much you can do."
Xavier Jemison tried, though. Trailing Yorktown senior Owen McArdle, he got a glimmer of hope. McArdle turned his head back to check his lead, an admission that he wasn't confident and an invitation for Jemison, a McLean senior, to come and catch him.
All Jemison needed was for his arms to cooperate, and they almost did.
"My arms and shoulders got tight toward the end," Jemison said.  "It was a struggle to get my arms to move."
McArdle saw Jemison in his peripheral vision, after watching him get closer each of the five times he looked back, but leaned for the win, with both timed at 15:51.
"I won't do that again," McArdle said of checking on his lead."
Jemison estimated the muddy patches probably added 20-30 seconds to their finishing times.
"When we weren't in the mud, we were running 5:00 pace," Jemison said.
McArdle and Jemison ran most of the race with Grafton's Ben Madrigal and St. Albans' Pierre Attiogbe.
Yorktown got the win 103-112 over South Lakes, who got their first finisher in fifth place finisher (16:32) Kai Gibson. Defending 4A champion Grafton was third with 128 points. Attiogbe's fourth place finish (16:14) and the first D.C. runners across the line led St. Albans to a fourth place team finish. 
Langley prevailed in a competitive girls race 125-128 over McLean, with West Potoamc third in 130. Lila Waters led Langely in fourth place in 19:04. Blake's  Ella Zeigler led Maryland finishers in fifth in 19:15 and Georgetown Visitation's Vivian Kelly was the first D.C. finisher in 13th place, running 19:56.
Recent Stories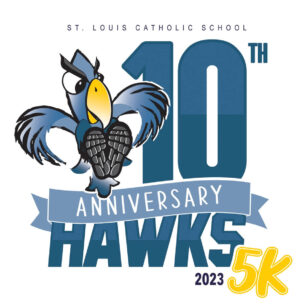 2023 will be the 10 year anniversary of the St. Louis Hawks 5K and Fun Run for Health & Wellness. The USATF certified course runs through the historic Hollin Hills neighborhood in Alexandria, VA.
The Hawks 5K goal, in conjunction