Heavy rain in late October forced a postponement for the Montgomery County Championships, and put coaches in a bind. How should they approach a race for bragging rights, when the regional meets, which would hold their fate for the state meet, loomed three days later?
For Gildon Kirk, in his first year coaching cross country at Bethesda-Chevy Chase, he saw it as a learning opportunity for his star sophomore Varri Higgins.
"Last year during the track season, she didn't have much competition until the post-season, and that showed when she had to race the faster girls in the state," Kirk said. "We looked at every race as an opportunity to get some more experience and get a feel for how to compete."
Those experiences were crucial because Higgins was just in her first real cross country season, having taken up running early in the COVID-19 pandemic and working from not being able to run two miles without stopping. They added up to a 4A state championship in 18:37, 19 seconds ahead of Broadneck's Mollie Fenn. After running the first half of the race with Richard Montgomery's Grace Finnegan, Higgins made a move climbing a hill before a soccer field led into a long downhill and had all the lead she needed.
MPSSAA Championships
Nov. 13, 2021
Hereford High School, Elkton, Md.
3 miles
"I was in shock, it didn't register to me what had happened," she said. "I knew I'd be proud of myself no matter what – I was proud that I was there at all, but winning it has shown me that those runs before school, the doubles, the cross training, it was all worth it."
Kirk said a few weeks Higgins took off to adjust to new orthotics in the middle of the season, which helped her regroup and peak at the right time.
"We were used to seeing her leading by 30 seconds, but the races kept getting bigger and she kept it up," he said.
Walter Johnson's girls won 80-93 over Broadneck with a solid pack starting with Madeleine Simmons in 14th (20:21), with Ellie Rogers four seconds back in 16th, Isabelle Senfaute (20:34) and Amelia Burkhard (20:37) in 19th and 21st and Carolyn Hultman (20:56), finishing 29th, ahead of Braodneck's fourth runner. Georgia Myers (51st in 21:40) and Hannah Riley (57th in 21:55) also ran for the Wildcats, whose title was their fifth since 2014.
"They came out of COVID looking to do something special," WJ Coach Tom Martin said. "They really missed running, and I could tell during the track season we had some solid performances to build on."
The most important part, he noted, came from the team bonding on trips to the Great American Cross Country Festival in North Carolina and the Manhattan Invitational in New York.
"That's when they went from being teammates to being friends," he said. "That's when they want to go that extra bit to make sure they're racing their best for each other. As a coach, you prepare a garden and hope a bird drops a good seed in there. You make it a fun place to be and let them come together."
The Wildcats also had the top local finisher in senior Andrew Schell, who finished third in 4A, running 16:30 behind Annapolis's Luke Coffin's 16:14.
"I was a little worried about the footing because the rain started about 15 minutes before the race, but I figured everyone would be dealing with those conditions," he said. "I never let myself drop back too far from the front. (Coffin) got away and it was surprising he was able to pick it up on such a difficult course. I was happy with the way I raced, though.
"I managed to improve a lot even though I ran a lot of my workouts alone this season."
Schell managed to outkick Severna Park's James Glebocki down the stretch, but Arundel's Tucker Sangster was still four seconds out of reach for second.
In the 2A girls' race, Daisy Dastrup was at about her lowest point when the call came for her to start racing. Not just her lowest point, the course's lowest point, at the bottom of "the dip" on her way back to the finish. Trailing Hereford's Estelle Snider, she had all but given up hope of catching the leader on her home course. But that's when Poolesville assistant coach Chris Sloane told her to get going.
"There was no harm in trying," she said. "I figured if I'm going to be running this race I might as well give it my all and see what I can do and go for it."
But Snider, from where Dastrup could see, didn't look tired.
"I was in a lot of pain, but it was motivating to see how much I was catching up," she said. "When I finally caught her, I realized I had a chance to win. I told myself that the faster I ran, the faster the pain would be over."
She caught Snider in the last quarter mile, putting six seconds on her for a 19:40 win.
"I've never won a race that way, with that strategy," Dastrup said. "I don't think I'd be able to have done that without my coaches' planning."
That coaching worked for the Falcom boys, who scored their first championship since 1965 with a 39-102 win over Liberty,
"The boys were looking good the whole season, but I was in a state of denial," Coach Prasad Gerard said. "I didn't want to jinx ourselves."
William Beane led the way in third (17:07), with Caleb Dastrup in fifth (17:14), Dylan Derewenko in seventh (17:35), Aaron Longbrake in 10th 17:44, Daniel Ponciano in 19th (18:09), Ian Boehm in 25th (18:23) and Kevin Hsu in 28th (18:28).
"Billy really improved at the end of the season," Gerard said. "He didn't know how strong he was. I told him there wasn't much difference in 10 seconds, so he should just go for it."
Recent Stories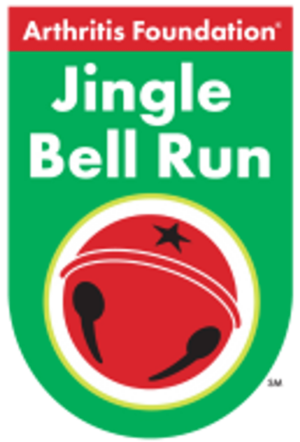 Be part of the original festive race for charity and signature Arthritis Foundation holiday event! Wear your favorite holiday attire and together, we'll jingle all the way to a cure! Register as an individual or bring a team of friends,