Oakton didn't exactly defy any laws of physics, but typically, losing five of your top seven from a state championship team means you should expect a rebuilding year. But like the hummingbird that probably shouldn't be able to fly, nobody every told the Cougars that.
With a steady stream of six finishers between 18th and 37th, Oakton scored 83 points to Yorktown's 88 to win the Virginia 6A championship at Great Meadow, seeing their results get better as the races got bigger. After losing the Concorde District by two points to South Lakes, they posted a 10-point win over the Seahawks at the Northern Region.
"After districts, we saw how close we were," said senior Elham Huq, who finished 27th in 16:53 and one of two returning runners. "It was just seconds… it's marginal. That's when we realized our potential."
Coach Matt Kroetch was pleasantly surprised.
"I think they realized they could be good before I did," he said. "I realized where we were relative to everyone else, but I never thought we'd be the favorite. They willed this into existence."
The pre-race planning, figuring everyone in the field raced their best, called for four finishers in the top 15. While that didn't happen, neither did the best-case scenario projections: Aside from Huq, junior Iyasu Yemane led the way in 18th place, running 16:40; junior Tyler Coleman was 24th in 16:50; sophomore Landon Newell was 32nd in 16:56, sophomore Connor Eklund (36th in 17:03), junior Quin Sehon (37th in 17:04), another varsity returner and Junior Derek Lewis (52nd in 17:14) got all seven runners in before Yorktown's fourth, balancing out the Patriots' three finishers ahead of Yemane.
The Cougars had plenty of targets to chase, with South Lakes, Woodson and Colgan all wearing nearly identical white uniforms.
It was still a record day for Yorktown, improving their standing in their second trip as a team to the state championships. Their results were highlighted by senior Owen McArdle's win in 15:45, breaking a 2-2 tie with McLean senior Xavier Jemison that stretched back to the Oatlands Invitational in September. Jemison won the Oatlands Invitational and the Liberty District and McArdle fought back at the Glory Days Invitational and the Northern Region.
"It was pretty windy, so I was just planning to tuck back and get a little protection for two miles," he said. "There's a hill with about 1,000 meters to go, and that's where I made my move to win the Great Meadow Invitational, so I was planning to do the same thing."
Jemison held on, with South County junior Isaac Garcia close behind. While Jemison has stressed holding back in races to preserve the kick that helped him win 800 and 1600 meter titles in the spring, the cold temperatures suppressed his kick.
McArdle, who has verbally committed to Virginia, allowed himself a glance back, something that almost cost him at Glory Days, and saw he had a gap, so he worked to make it wider.
"I wanted to make sure I didn't celebrate too soon," he said. "I was feeling pretty good and confident I was going to win the race."
And he did, running 15:45 to Garcia's 15:57, sneaking in past Jemison, who finished third in 15:59.
Despite his individual title, McArdle hoped his contribution to the Patriot's best-ever finish was more than helping his team start off scoring in the most advantageous way.
"What I can add to team culture is more important than me winning the race," he said. "It doesn't matter if you're super talented if you don't have guys around to push you every day."
Coach Jacob Dumford said that team dynamic of trust, accountability and support was more important than any technical aspects to the team's training.
"They really buy in to running for each other and a program they believe in and care about," he said. "They put in good work but they run for something bigger than themselves. It's been a process to build team culture, but that's what ends up leading to success."
The 6A girls race pitted a frontrunner in Battlefield sophomore Sailor Eastman against a late-race star in McLean junior Thais Rolly, a rematch of the April championship that saw Rolly squeeze ahead by two seconds.
Eastman carried a bit of mystery, having missed races following her narrow second place finish at the Oatlands Invitational until her district meet while she dealt with a left foot that was on the brink of a stress fracture.
She pierced that mystery from the start, taking the lead early and leaving a five-person pack chasing her — the Liberty District trio of Rolly, Herndon's Gillian Bushee, Yorktown's Anna Macon Corcoran, plus Forest Parks's Elizabeth Gregory and Ocean Lakes' Aniya Mosley.
"I just planned to run my own race," Eastman said. "If someone wanted to come with me, I'd push it."
Originally a swimmer, Eastman had plenty she could do to cross train during her injury layoff.
"It was a little rough at first but she's really smart," her mother, Maggie, said. 'She took a moment, felt sorry for herself and then decided to move forward."
She felt a little disconnected from her team despite traveling to meets to cheer, but when she joined them to do a workout during her district meet, things came back to her. She put spikes back on for the first time in almost two months to race her regional championship, and just the opportunity to run on a cold windy day with light sprinkles delighted her.
"It was beautiful out there," she said. "It was a whole new experience. I was out so long, I forgot what that runner's high felt like."
Rolly took a risk in heading out of the safety of the pack to chase Eastman down halfway through the race. A cautious starter, she was already out of her comfort zone with the pack's fast early pace.
"I was running pretty much alone in the second half, and I definitely underestimated how long the last stretch since because I haven't run it in two years. I'm glad I had to confidence to break away and try to catch Sailor, because I'm scared to do that sometimes. I'm nervous I won't be confident enough to maintain it, so I've been trying to focus on my rhythm to keep my pace up."
While Rolly (17:50) didn't catch Eastman (17:29), she led the Highlanders to their best state finish–second (95 points) to Ocean Lakes (67 points). Gregory finished third in 18:11.
Like Dumford, McLean coach Kyle Jemison stressed team culture that has helped his team to district and regional titles, and will see all runners return in 2022. Freshman Calypso Rolly joined her sister in the top 10 in eighth place (19:00).
"They're all my little sisters," Thais Rolly said of her teammates. "Last year I ran alone, this year I have people to run with."
Like Eastman, Loudoun Valley senior Ava Gordon threw caution directly into the wind and hoped it wouldn't hit her in the face as she tried to win her third straight 4A title.
"I don't know what came over me, I just decided I didn't care about the wind and I was just going to go and see what happens," she said. "I was pretty comfortable thinking that, but I'm sure I would have regretted it if someone caught me. It was so windy, every hill seemed harder."
She wound up with a solid lead, 17:53 over Jamestown senior Caroline Bauer, and started off scoring for the Vikings' fourth straight title. Junior Scarlet Fetterolf was sixth in 18:39, sophomores Eryn Lackey (19:47) and Ella Peterson (19:52) were 20th and 22nd, respectively. Senior Cecilia Fetterolf (20:36) was 43rd, senior Katherine Slovak (55th in 21:12) and junior Samantha Bolen (61st in 21:26) closed out scoring for a 72-97 win over Blacksburg.
Senior Graham Mussmon took Loudoun Valley's individual title streak to nine years and six runners when he won a fast last mile after the largest pack of the day came through two miles in 10:10. Western Albemarle's Owen Shifflett made a move at the top of the hill with 1,000 meters remaining that prompted Mussmon and Patrick Henry's Luke Taylor to jump from the pack, and once Taylor settled back into a pace, Mussmon attacked and kept pulling away.
"I definitely I knew was I was capable of winning it, but I thought I'd make my move halfway through," he said. "I wasn't feeling as good, so I waited until we got inside the fence (with 600 meters to go) before I started kicking.
"That last stretch felt like the it wasn't going to end, but I took a few looks back and saw I had a few seconds' lead, so I just kept pushing to put the race away."
He wound up running 15:43, ahead of Taylor's 15:50. Loudoun Valley finished third (120 points) behind 4A newcomer and 2019 NXN Finalist Western Albemarle (77 points) and Grafton (96 points).
Local runners were harder to come by in other classifications, with Stone Bridge (137 points) finishing fifth in 5A behind Glen Allen's 38 points, with Potomac Falls senior Hudson Barth leading the way in 17th place in 17:08, trailing Godwin's champion Berkley Nance (16:12). Woodgrove junior Layna Capritta was the top local 5A runner in 15th place, running 20;11 to Midlothian's Gabriella Garcia's winning time of 18:55.
Meridian High School represented Northern Virginia in Salem at Green Hill Park's 3A races, with senior Lauren Mellon's 15th place in 19;41, behind Skyline junior Ava Border's 18:30, paced Meridian's third place finish (117 points) behind winner Maggie Walker (72 points). Sophomore Tucker Albaugh (19 in 17:11) led Meridian's boys to a seventh place finish with 191 points, trailing Abingdon's 33 points led by champion Isaac Thiessen (15:32).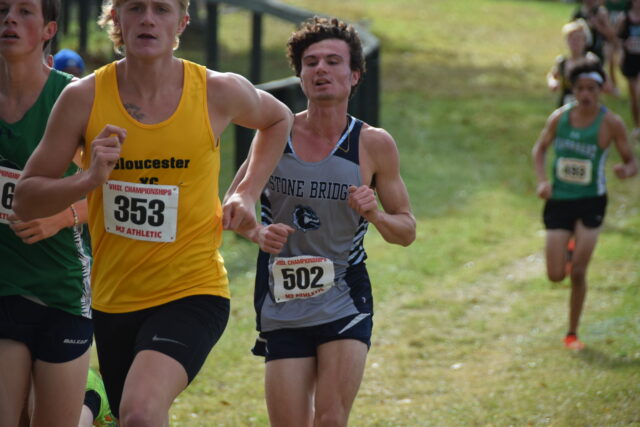 Recent Stories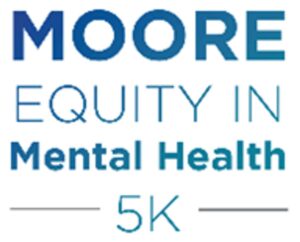 About APA's MOORE Equity in Mental Health 5k
The APA's Division of Diversity and Health Equity invites you to join us in combating mental health inequities facing young people of color and in honoring mental health advocate Bebe Moore Campbell.