Doubts swirled around my head, and my right quad muscles ached with cramp-like pain. It was only ten miles into the 2021 Philadelphia Marathon but as I watched what felt like hundreds of runners zip past me, I started to recalibrate my pre-race goal: Three hours and 50 minutes became four hours. Then four and a half hours. Then simply finishing.
The race turned into a mental battle. My legs screamed for me to stop and walk, while my brain urged me to continue on pace. The 10th mile would be my slowest up to that point. I tried to find motivation wherever I could. I repeated the mantras, "mind over body" and "don't run scared," to myself as I locked on to the runners in front of me. I visualized how satisfying it would feel when I crossed the finish line with another sub-four hour marathon. I thought about my supporters back home who were tracking my race online. 
But perhaps the biggest inspiration to run came from memories of the week prior, when I coached and cheered on the Walter Johnson High School cross country team at the Maryland 4A state cross country championships on a cold and rainy day at Hereford High School. The girls' team won the Maryland 4A state title that day–the 10th girls' state cross country title in school history–and the boys finished fifth on the notoriously hilly and difficult course. Only 35 seconds separated the first and fifth finisher on the girls' team. They ran together and unafraid. "We poured our hearts into it," one of the senior girls told the Washington Post after the race. 
I couldn't give up on my sub-four hour goal in Philly. Not now. Not when I needed to show up to practice the following afternoon. Throughout the season, the coaches had preached racing tough and running with confidence. I needed to listen to my own advice. 
I picked up the pace.
Eight months earlier, I was sitting on my couch at home when I realized something about my routine needed to change. I had fallen into a rut while working remotely during the pre-vaccination days of the pandemic. Aside from running and going out to pick up food, I rarely left my apartment. 
I decided to give Tom Martin and Ashley Corbey a call. Martin, the head cross country and outdoor track and field coach at Walter Johnson, is my former track coach at WJ and I was briefly teammates with Corbey, a longtime assistant coach at our alma mater. For years, I've wanted to get involved in coaching, but it never fit into my schedule. Working remotely gave me an opportunity.
I joined the team as a volunteer assistant coach for the outdoor track and field season in 2021 (WJ won the school's first boys' outdoor track and field state title that season), and I've stayed on for every season of cross country and track and field since. It's some of the most fun I've had in the sport. 
From Monday to Friday during the school year, I stop by Walter Johnson from 3 to 5 p.m., and help lead practices with the distance team alongside Martin and Corbey. Practices start with a brief warm up around the track or surrounding neighborhood followed by dynamic stretching on interval workout days. I'll sometimes shout out splits for the runners who request them, but typically this time can be used for coaches to discuss relay teams and determine which events each runner will be running for upcoming meets.
This past winter and spring, Martin and Corbey also gave me the opportunity to assign workouts for the team. I've enjoyed coming up with track workouts that both challenge the runners while best preparing them for their upcoming races using the knowledge I've built from years of my own training and from interviewing athletes and coaches.
Meets are a full day event. For cross country, I arrive with the team in the morning and prepare the runners' bibs as they go on a course walk. During the race, I try to stop by various points on the course to cheer on the runners. It's not uncommon to get in several miles of my own running while spectating cross country meets. For track, I stand near the start line to get 400-meter splits for the distance relays and running events. Afterward, I send out a Google Sheet with the splits to the captains, and it's been rewarding to see how each runner progresses throughout the season by the numbers.
I've also picked up some technical skills from my time coaching. I occasionally jump into workouts, and I remember that at a Montgomery County Road Runners Club cross country race last fall, I used the uphills to my advantage, passing runners as I crested up the hills. The WJ cross country team had recently practiced a hill repeat workout. Corbey and one of our senior boys explained to the team the importance of running hard past the crest or peak of a hill. It worked.
Coaching has taught me a lot, and not just how to train. When reporters ask Martin about the team's goals, his reply is typically the same: He wants the kids to work hard, try their best, and have fun. The rest will take care of itself. As a coach, I get to see each day that the runners who consistently put in the effort at workouts are the ones who reach their goals, regardless of what they are. I'm also reminded of the fact that one workout or repetition does not make or break the season. Just keep showing up. 
Back in Philadelphia, I thought about the lessons I've learned from coaching. The cramp in my right leg eventually eased up and I picked up my pace. I hit what felt like the wall a few times, but I knew I had given myself a buffer to run a sub-four hour marathon. I just needed to stay mentally in the race. I ran my fastest split in the 25th mile, and charged up the final hill. I crossed the finish line in 3:58.47, only 17 seconds off my personal best.
Later this year, I will be coaching cross country at Walter Johnson again and I am registered to run at the New York City Marathon in November. I'm not sure what my goals are yet. But whatever I do, I want to make sure that I put in consistent work, while having fun. Just like the runners at WJ.
Recent Stories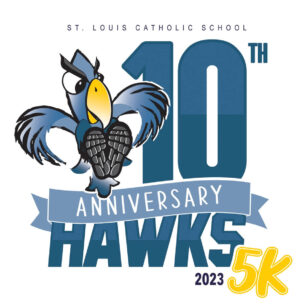 2023 will be the 10 year anniversary of the St. Louis Hawks 5K and Fun Run for Health & Wellness. The USATF certified course runs through the historic Hollin Hills neighborhood in Alexandria, VA.
The Hawks 5K goal, in conjunction