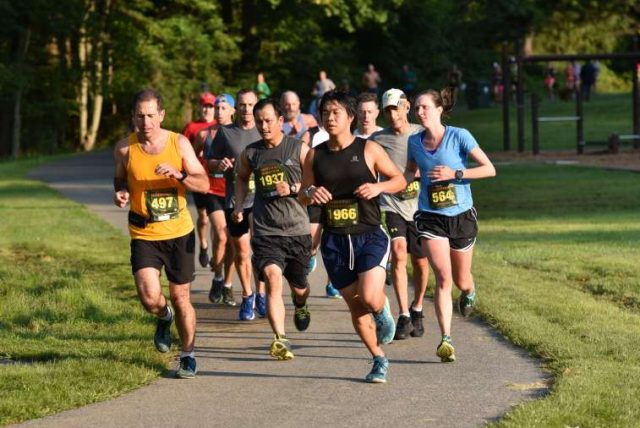 Cross country races are tough, guts-out, lung-ravaging affairs, and for most high schoolers, 5k is long enough.
But some want to ride that feeling a little longer. Like Zachary Zhao.
Though he wanted to play soccer as a freshman at Magruder High School in Rockville, he broke his collarbone over the summer. That was his second break in the same year, and contact sports were out of the question.
Luckily for him, cross country isn't a contact sport.
"I didn't realize kids were running five miles at a time," Zhao, now a sophomore, said. "That first practice was a shock. Three miles was so hard."
Zhao soon became more comfortable with training and running. But the short three-to-five-mile runs for cross country practice or the quick bursts of speed for track weren't satisfying his need to excel. He needed a tougher challenge; he wanted more miles.
In September 2017, Zhao competed in his first half marathon, and since those initial 13.1 miles, he's been aching to run more long-distance races. He wants to complete a full marathon before graduating high school.
"After track season freshman year, I just had the really strong to run," he said. "It was a lifestyle. I would get cross country withdrawal if I didn't run on a certain day."
The summer of 2017, Zhao would run five to 10 miles because he was enjoying it so much. Leading up to cross country season, Zhao wanted to run a half marathon, and the Parks Half Marathon was basically in his back yard.
He got permission from the race committee to race, since he was younger than 18. Training for that race was a bit tricky with balancing school, homework, sports and evening Chinese lessons. His cross country coach had him training hard — upwards of 70 miles per week.
"I was running in the mornings, and evenings after practice," Zhao said.
His grades did suffer a bit including in honors physics, said his mom, Shuling Hwang.
"In the beginning, I was a little bit worried. Now he balances himself much, much better," she said. "Before when he first started running, he was tired so he forgot to do homework. Now, he knows what to do."
On race day, Zhao was unsure of his own abilities. He started with the 1:50 pace group, but soon realized they were a bit too slow. He sped up and caught up to another group. The race course was similar to some of his cross country routes, so he felt comfortable.
He finished the race just under 1:40.
"I realized that even if I won my age group, I wouldn't be able to get any prize money because I wasn't qualified technically because I was underage."
He hopes to complete this race again in the fall, and his goal is to get his time to under 90 minutes.
"I have a pretty rigorous training plan over the summer that I want to try," Zhao said. "It's 65 to 70 miles per week, which sounds like a lot, but after track, my fitness should be a lot better."
"I'm so happy he found a sport he loves," Hwang said. "I used to have to wake him up, but now he wakes up himself! I can see the difference."
That bucket list marathon is calling him, but Zhao doesn't know which race he'd run. He considered registering for the upcoming D.C. Rock 'n' Roll Marathon in March but concedes that might be too soon.
"He's growing into a great athlete, and he has a lot of potential," said cross country coach Exavier Watson. "He just has to focus."