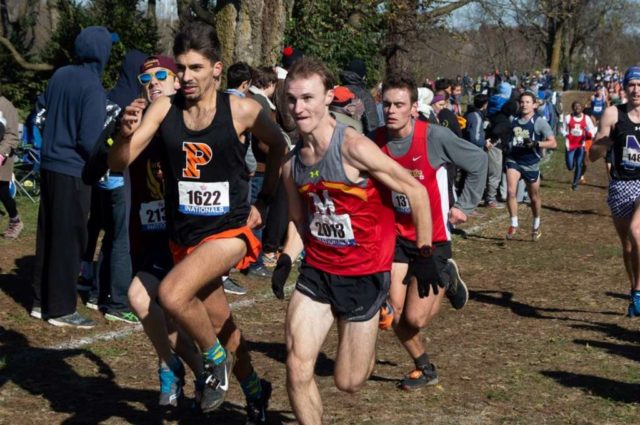 When Zach Gallin wants to hang out with some of his closest friends on any given day, he knows to show up at the Bishop John Carroll Statue in Georgetown at 5 pm.
That's where the Georgetown University Running Club, which has about 80 active members this year, meets to log some miles and have lots of fun along the way.
"It was one of the first things I joined at Georgetown," said Gallin, a junior who recently became the club's president. "It became the centerpiece of my life."
For college students like Gallin who love to run and crave a team-like environment, club running has become a popular alternative to joining the varsity track or cross country team.
"I wanted to be a student who happened to run, not a runner who happened to be a student," said Colin SyBing, a University of Maryland junior and president of the University of Maryland Running Club. He ran for T.S. Wootton while in high school.
There are around 150 college running clubs registered with the National Intercollegiate Running Club Association (NIRCA), the sport's governing body.  
But organized competition for these clubs is relatively new. Before NIRCA was founded in 2006, club runners were left to compete in local road races and varsity college open invitationals, if they competed at all.
More collegiate racing opportunities
The Collegiate Running Association plays host to competitions within existing events that offer prize money exclusively for runners taking college courses at any level. Two 2019 championships are within two hours of the D.C. area
April 13- Monument Avenue 10k – Richmond, Va.
May 11 – Thunderbunny 12k – Athens, Ohio
May 27 – Loudoun Street Mile – Winchester, Va.
"After the Ball State University club hosted what we believe to be the first all-club cross country invitationals in 2004 and 2005, we realized it would be great to have more club races like that to choose from but there needed to be some kind of league or conference to organize it," said Julia Stulock, NIRCA's director of business management and one of its founding board members. "So, the idea of NIRCA was generated by a group of college running club officers, simply to have more competition opportunities with a fun environment."
Stulock said the Mid-Atlantic region has been one of NIRCA's biggest and most active regions for several years, with 28 member schools that combined 14 events for the 2018-2019 season.
"In many aspects, club running can offer a more relaxed atmosphere than a varsity team," said Stulock, a former college club runner. "You go to as many team practices as you can manage with your classwork, you choose when and if you want to race, and do not have any pressure to maintain scholarship/waiver eligibility."  
She said she's also seen athletes use club running as a way to prepare themselves for making the jump to varsity, or as a way to continue running after varsity eligibility has run out.
The college club running scene in the D.C. area is a vibrant one, giving schools many opportunities to collaborate with and compete against each other, runners say.
American University XCTF played host to the Capital Relays March 24, while Maryland will hold the Terrapin Invitational 2019 on April 6. Georgetown's Battle for D.C. track meet is coming up on April 13.
The clubs also have a number of other meets on their agenda this spring, including NIRCA's Spring National Championships at Miami University of Ohio, and some local road races, too.
Daniel Ritter, president of American University Club XCTF, said the club has about 60 to 70 members this year, with around 30 runners who participate in most of the club's events.  
Ritter, a third-year senior, was a serious runner in high school, but wasn't interested in the commitment that came with being on American's varsity track team.
He still wanted to keep running and training, though, so he joined the club, which he describes as a solid mix of competitive and casual runners.
""We measure success by how many people who get together to practice, or how many people are coming to our long runs," Ritter said. "There's no elitism here."
SyBing, a runner since seventh grade, joined Maryland's club on the first day of his freshman year. He's seen the club, which has about 250 members, expand in terms of having a roster of dedicated runners.
They've also had some major successes recently, with the girls cross country team placing 10th at nationals last fall.
While the club's weekday practice runs are voluntary, he said there's a growing number of runners who show up consistently.
What workout they do when they get there, however, is entirely up to them.
"You can show up and run whatever workout you want to run," said SyBing, whose personal running goals include breaking 15 minutes in the 5K. "In reality, it's just more of a community to find those training partners."
Gallin said Georgetown club members run every day, including twice on Wednesday, and those meet ups include two workouts. While all runners are encouraged to do the workouts, they aren't mandatory.
"Our motto is challenge by choice," he said.  
In addition to the team's practices and meets, Georgetown runners also volunteer with Back On My Feet and Teens Run D.C. Back On My Feet works to empower homeless residents through running and connects them with various resources, while Teens Run D.C. helps city youth through a mentoring and distance running program.
That outreach is something that makes Georgetown's club unique, Gallin said.
While D.C.'s running scene offers ample opportunities for competition, club presidents say it's the fellowship among their fellow runners that truly excites them.
"There's something really beautiful about going on a nice long run on a fall morning in Rock Creek Park with your friends, doing something that you all love," Ritter said.