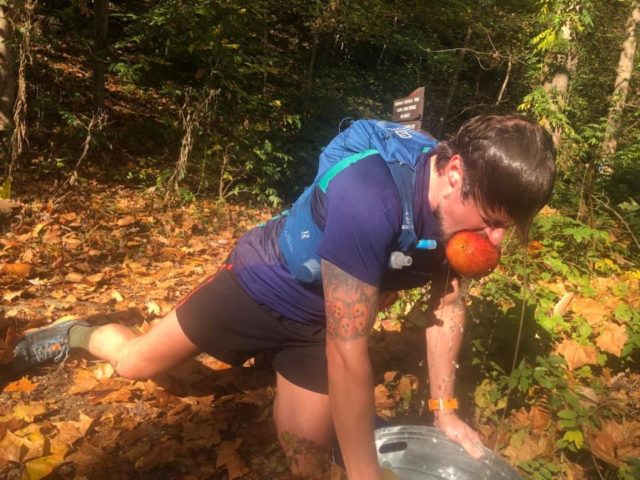 Trail races are already pretty chill, but those looking to take low-key to an even lower level should go find a Fat Ass.
Fat Ass events are free, loosely organized group runs that focus on trail community and camaraderie over competition. Depending on the organizer, races will sometimes have aid, sometimes swag, and sometimes course markings, but an entry "fee" is always a donation of food or drinks to a communal aid station.
"My first true experience into the real-world culture of trail running and the ultra family was at Halloweeny FA put on by VHTRC," says D.C. resident Thomas McNulty. "My race entry 'fee' was two bags of potato chips. There was no judgement on whether I had run fast, slow, run the whole distance, run part of the distance or didn't run at all. New friends were made, laughs enjoyed and I quickly realized that this was the people that I wanted to surround myself with."
McNulty, a current VHTRC board member, is now the race director of the club's Potomac Heritage Trail Fat Ass 50K which starts and ends near his home in the Mount Pleasant neighborhood of DC.
"When planning my course, I tried to stay true to the original course, but yet also tried to provide some new and different trails that people might not know or have run on (ie Trolley Trail)," he says. "As RD, I get to introduce more people to the club, to trail running, to ultra running, plus make tons of new friends, [and] host/throw a party at my house for all my new and old friends!"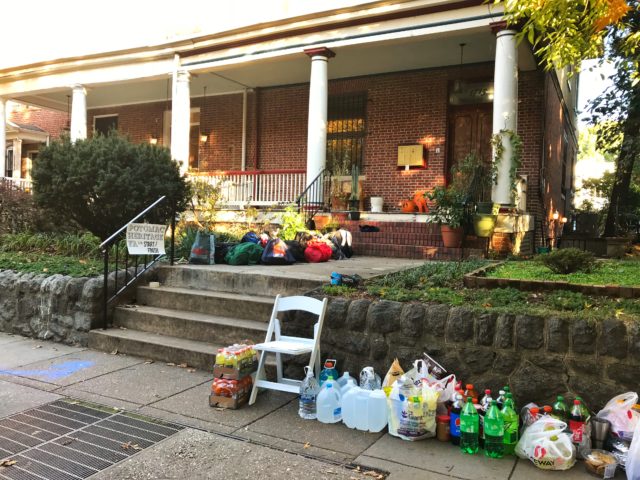 Trail lore says that these events began as a means help reduce one's "fat ass" after the holiday season of gluttonous eating during a time when the winter weather makes running long outside way less fun. Routes are typically out-and-backs or a shorter loop, so runners have the option to go as long (or as short) as they want.
"We've always run the race the Saturday before Thanksgiving," says Ronald Green, race director of the Harford County Running Club's Little Gunpowder Fat Ass 50K. "[It's a] good time to burn some calories."
Like McNulty, Green says he and fellow Harford County runner Steve Boutilier wanted to start Little Gunpowder as a way to connect runners and provide an alternative to other, more expensive races. But besides being cost-effective, Green says, fat ass events can be a great introduction to trail races for new trail runners.
"They're normally directed and supported by other experienced ultra-runners," he says, "which means the courses are marked well and the aid station volunteers know what runners need and have the experience to help them when a runner is having a tough time."
And they're just, good, free fun.
As the popularity of these non-races has increased they've gradually become year-round events. Check out several of these area events:
November
November 23 in Kingsville, Md. "One of my favorite Fat Ass races — or, why qualify it, one of my favorite races, period — is Little Gunpowder 50k," says Richmond resident and fellow Fat Ass RD Quatro Hubbard. "By far the best food I have ever had in a race. They just ask for the usual common aid item in return for all those crab cakes, sliders, quesadillas, crab mac and cheese, chili and bourbon on the course."
This year's event is full, so be sure to register early for 2020.
December
December 14 at Hemlock Overlook Regional Park, Clifton, Va. MGM was VHTRC's very first event, and carries forward the club's tradition of a very silly and social event. Runners are encouraged to dress in their festive finest, and are welcomed back to the finish with piles and piles of hot pizza. Registration is open now. The club asks for a $10 RSVP "fee," refundable in cash when you show up race morning. The $10 from the no-show runners pays for the post-race pizza.
January 2020
January 1 at Prince William Forest Park, Virginia. VHTRC's often-chilly but always well-attended New Year's Day event is a great way to ring in the New Year — or run off a hangover. The abundantly-stocked aid station is reason alone to come out for this one. Registration generally opens in early December.
March
March 14, 2020 in Fort Valley, Va.. Get a supported tour of running in the rugged Massanutten Mountains without having to commit to an ultra distance. Come for the rocks, stay for the party.
October
Typically the first weekend in October in Prince William Forest Park, Va., this very laid back fun run is a great way to see PWF's great fall colors.
November
Typically the first weekend in November in Washington D.C. Each aid station at this very social run has an optional challenge for runners to complete; those who do get rewarded with minutes taken off their finish time.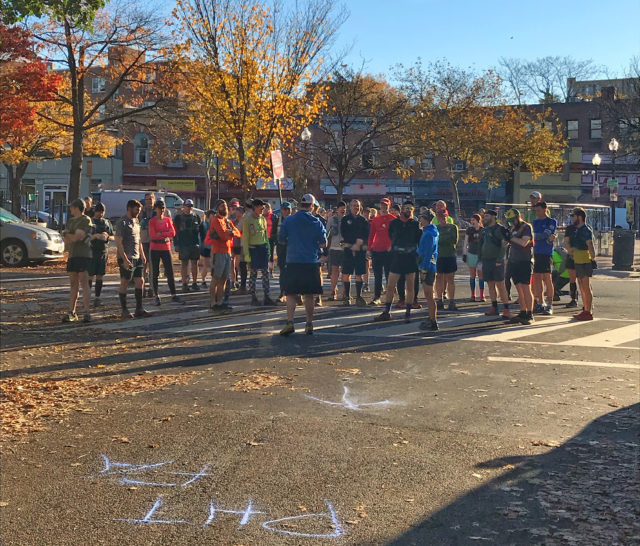 Recent Stories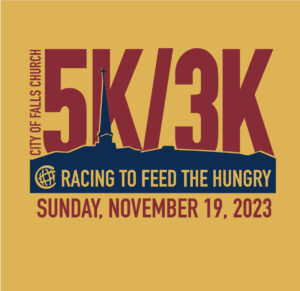 The out and back Falls Church City 5K/3K course is mostly flat on the W&OD Trail starting and finishing at 103 Columbia Street. Overall male and female winners earn free shoes and medals are awarded to all categories. Great family