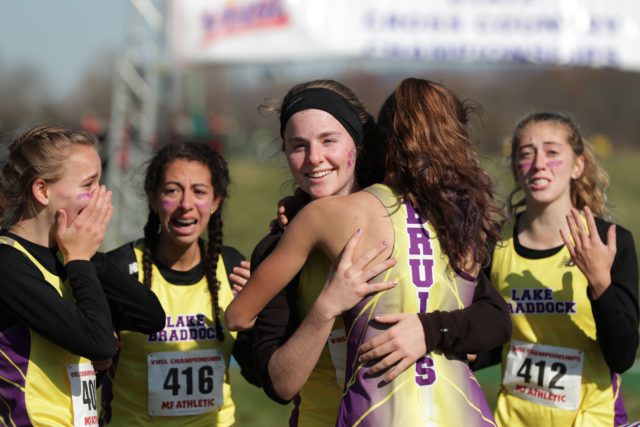 It had been a while since Bethany Graham had run down the long stretch that leads to the Virginia state meet finish line at Great Meadow. Three years in fact, since she had made it through a cross country season unscathed. In that time, John Champe high school grew to 6A from 4A, and when the senior finished first with a 34-second margin of victory over Ocean Lakes sophomore Aniya Mosley running 17:42, she nearly led the Knights to a team title in the state's largest division.
Her own race held true to her formula all season – go out fast and hold on. Within seven minutes, she was alone.
"The last mile was pretty difficult, but I managed to finish strong," she said. "I was pretty lucky all season to stay healthy."
But unfortunately for Champe, the six of the top 11 finishers were running without their teams, meaning Lake Braddock's top finisher Sophie Willis's 12th place finish only counted as six points, cutting the advantage Graham offered. Lake Braddock put seven ahead of Champe's fifth and edged the Knights by eight points.
"We didn't even think we'd be on the podium," Graham said. "We were going up against so many teams that been so good for so long. After we lost Mythri Madireddy to an injury, it encouraged the younger girls to step up, and they did."
1.Bethany Graham John Champe 17:42
2. Aniya Mosley Ocean Lakes 18:16
3.Catherine Gregory Forest Park 18:24
1.Lake Braddock 89
2.John Champe 97
3.Ocean Lakes 119
Bruins Coach Mike Mangan barely made it to the meet, thanks to a bout with pneumonia, but he showed up and found that winning was more effective than bed rest.
"We talked about being ready for today all year, nothing else mattered," he said. "If we ran disciplined, we could race with anybody."
Approaching the halfway mark, Mangan liked their chances.
"Where we were and how we were running told me things were going well," he said. "I didn't know if we were going to win, but they were doing things right."
What he saw was his fourth, fifth and sixth finishers, Kayla Nocerito (20:01 for 28th among team scorers), Caroline Fleenor (20:06 for 32nd) and Sophia Rossen (20:12, 38th), sticking together, which he said paid off later on.
"In the last mile, they each made a move to keep the others reacting and keeping them from falling apart," he said. "If they didn't finish strong, Champe would have had us."
Willis was worried her legs wouldn't keep her upright through the finish, but she managed, running 19:02.
As the "mom" of the team, she took responsibility for making sure the Bruins were dressed properly.
"I'm always making sure everyone has long sleeves and long pants, they'd doing stretches and doing cooldowns," she said. "We didn't wear long sleeves last year so we wanted to make sure we were ready for the wind this year."
For her, the training throughout the season would have been useless without team bonding.
"This race is one you win by running for each other," she said. "When you're hurting, think about how much you love all these other girls. Do it for them."
Sophomore Alexandra Hague (9th in team scoring in 19:11) and senior Emilia Doran (14th in team scoring in 19:38) also scored for the Bruins.
"By the second mile, I was really questioning if I could pull this off," Hague said. "I told myself if I let people pass me, I'd never forgive myself."
It turns out physical discomfort is easier to manage than shame. And what the Bruins needed to retake the 6A title, after their streak of three came to an end last year at the hands of West Springfield. Six of the Bruins' top seven had combined to finish eighth last year.
Though Graham and Olivia Lecker (25th in team scoring in 19:57) are the only seniors to graduate from this year's Champe team, the school is facing redistricting with the 2020 opening of Lightright High School. Sophomore Marianne Jayaraj (eighth among team scorers in 19:08), freshman Taylor Gibson (10th in 19:22) and freshman Lillia Graham (53rd in 20:47) also scored for the Knights.
"Even if they end up going to different schools after this year, I know (the underclassmen) have the tools to make their teams great," Graham said. "I have complete confidence in them."
Yorktown junior Piper Dean raced sparingly throughout the season while she dealt with an injury, but that didn't temper her expectations for the state meet. She knew Graham and Mosley would start fast, but she committed to chasing them. She wound up fifth overall in 18:30.
"I didn't expect it to go out quite that fast," she said. "It definitely caught up with me in the last mile, but it's the state championships, so I'd rather try to win. I'd rather finish fifth than play it safe and be second."
The long stretch to the finish bedevils its fair share of runners. Though Herndon freshman Gillian Bushée (seventh overall in 18:54) ran at Great Meadow at the Octoberfest Invitational, that course used a different finish, and she wasn't quite prepared the last stretch this time.
"I felt light headed and weird," she said. "I thought the finish was so close, but as I got closer I realized it was still so far away."
Centreville junior Camilla McKinstry finished fifth in a 5k PR of 18:29 by relying on her experience the prior year and looking forward to the same stretch.
"I didn't anticipate how hard it would be the first time, so I was determined to finish better this year," she said. "I used the (head)wind to motivate myself to overcome it. That and having other fast girls to race with helped."
She credited Coach Jean Cole-Kleitz with getting her to this point.
"She knows exactly how to train me to get me to my fullest potential," McKinstry said. "She sets goals for me that I think might be too ambitious, but the workouts she lays out get me there."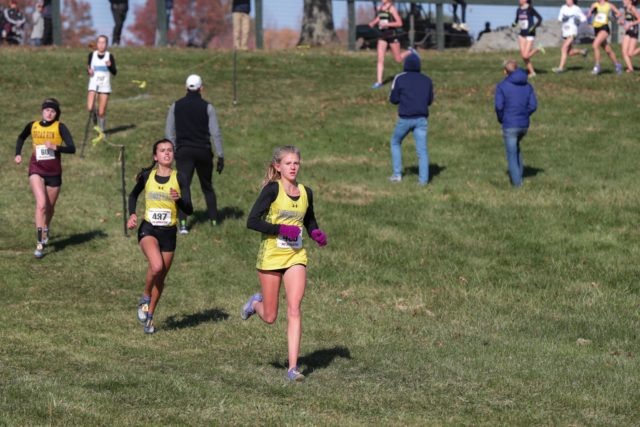 Marc Hunter was expecting a bigger pack down the last stretch of the 4A race. But he also wasn't upset to see two of his Loudoun Valley girls, Ava Gordon and Ricky Fetterolf, alone.
1.Ava Gordon Loudoun Valley 18:04
2.Ricky Fetterolf Loudoun Valley 18:10
3.Ellie Desmond Broad Run 18:21
1. Loudoun Valley 36
2. Blacksburg 59
The pair has been training together since Gordon moved from Ashburn and senior Elise Abbe was forced into a two-month layoff with a foot injury. Gordon (18:04) ultimately outlasted Fetterolf (18:10), last year's 4A champion, who finished 11 seconds ahead of last year's 5A runner-up Ellie Desmond of Broad Run.
The Vikings scored 36 points to widen the gap between rival Blacksburg (59 points), who they finally overtook last year by four points.
Gordon, a transfer from Rock Ridge who finished fourth in 5A last year, described this year's race as a lot more pleasant, physically and mentally.
"This year I just had a lot more confidence coming into  the race," she said. "Racing with Ricky was a lot more fun that going on my own."
Hunter said Gordon has integrated well into the team.
"She's fit in well from a training perspective, she's fit in well with the team socially, academically, spiritually, she's been a good addition all around," he said. "And she's talented."
So far, her state championship has been a highlight of the season, "but if we make it to NXN as a team, I might replace it," she said.
Fetterolf said both having a teammate to race with and her pre-race mental preparation helped her enjoy this year's race even more than last.
Her personal recipe for mental success?
"I read scriptures and I try to run through the race in my mind, I think about the way I want to run the course," she said.
She also showed her sisters Scarlet (14th in 19:09) and (Ceci 44th in 20:45) footage of the course with some commentary based on experience from her two years of top-five finishes.
For Abbe, the state meet played in important part in her return to race fitness in advance of Nike Cross Regionals in two weeks, where the Vikings hope to qualify for nationals.
"Just coming back has been different because I'm behind the rest of the team, but for the first time I felt solid, mentally 'there' and strong," she said of her seventh place finish in 18:31. She surged to catch up with a pack of runners mid-race to took refuge from the wind, then marshaled her energy for a push at the end.
"It was a matter of how few points we'd score," she said. "I really wanted to get up with Ava and Ricky and go 1-3, but I know I'm in a good place with two weeks to go."
Junior Ally Talley also scored for the Vikings, finishing 17th overall in 19:18.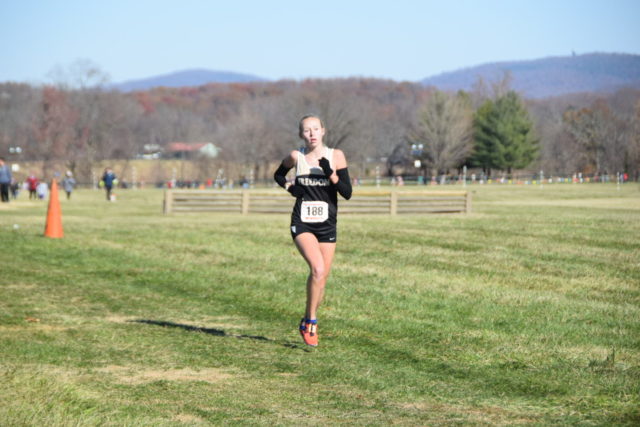 1.Maeve Stiles Maury 17:58
8. Mackenzie Keller Freedom 19:24
10.Andrea Silva Thomas Jefferson 19:29
1. Deep Run 65
4. Freedom 119
6. Stone Bridge 155
Freedom led the local teams in the 5A race with a 119-point fourth place finish, shortly after the Eagles won their first regional title. Deep Run won the meet with a 65-67 score over Midlothian. Stone Bridge beat Thomas Jefferson for fifth place on a tiebreaker with 155 points.
"We thought we could challenge some of those teams at the top of the division," Coach Chris Weeks said. "We had a really successful summer and the kids really bought in to what we're trying to do. It showed today."
Freedom sophomore Mackenzie Keller was the first local runner across the finish line in eighth place overall, running 19:24. Maury senior Maeve Stiles won the race in 17:58. Thomas Jefferson sophomore Andrea Silva ran 18:29 for 10th, with TJ senior Sydney Szabos (11th), Rock Ridge senior Taylor Semon (12th) and Freedom junior Madison Garber (14th) all running 18:30.
Junior Abigail Church (16th overall in 19:40), sophomore Jessica Borden (53rd in 20:55) and freshman Carleigh Fick (59th in 20:05) rounded out the Eagles' top five, with junior Bailey Elliott a few places back in 62nd (21:14).
At the 3A championship at Salem's Green Hill Park, George Mason and Brentsville District finished third and fourth with 111 and 135 points, behind Maggie Walker's 48. Senior Abigail Seigel led Brentsville in 16th in 19:32 for 5k and sophomore  Lauren Mellon led George Mason in 20th in 19:37. Maggie Walker's  Mary Caroline Heinen won in 17:52.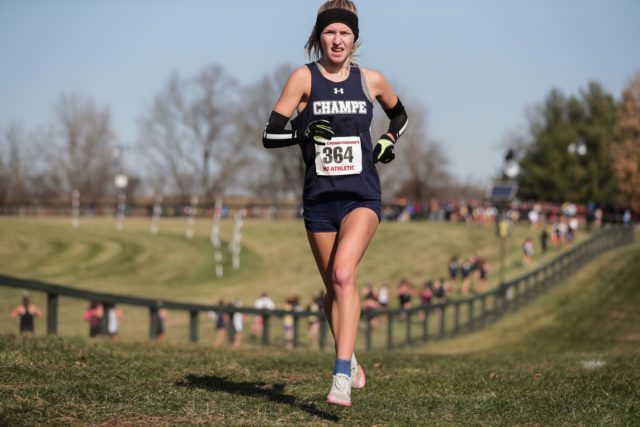 Recent Stories

Both 5K and 1 mile courses are USATF certified. The 5K course has some moderate hills. The 1 mile course is flat making this a perfect PR course. We are really looking to get a broader participation base.
Funds go