Name: Thong Tran
Self-described age group: 41
Residence: Herndon
Occupation: Pharmacist
Volunteer roles in the running world: Volunteer with local groups such as Trottin Oxen and DC Capital Striders
Why you run: I currently run as an outlet to stress, anxiety and depression. But I started my current foray in 2015 when my cholesterol was through the roof. I signed up for my first and supposed one-and-done marathon, Rock 'n' Roll D.C. 2016, to help me lose weight and get my labs under control (I'm no longer on any cholesterol medications!)
When did you get started running: I ran in high school, both cross country and track, at the suggestion of my 10th grade PE teacher.
Have you taken a break from running: After high school I really didn't run until seven years ago, my coworker asked if I wanted to run a half marathon with her (Rock 'n' Roll D.C. 2013). I signed up, she canceled lol. I remember getting to the point where the half and full split and thinking…those guys are crazy, I would never do that! Then I stopped running until my cholesterol labs came back bad!
Training shoe: Currently Brooks Adrenaline GTS 20s. But I've trained in Nike, Brooks, New Balances and Mizunos…essentially anything that the guys at Potomac River Running recommend for me and have in stock. I'm that guy that will buy a new pair of shoes and race the next day or do a 20-mile training run and just hope for the best.
Coach or training group: My sister introduced me to the Trottin Oxen Run Club in Ashburn because I wanted to run a Ragnar Relay after my one-and-done marathon, but I didn't have enough running friends to form a team. After meeting them I got hooked into more events. Jenn Miller from the group is very persuasive when recruiting for events! The running community is small in the area. I've met many other groups through the Oxen including DC Capital Striders, Caboose Trails and Ales, Capital Area Runners, just to name a few.
The hardest race you've ever run: MCM 2016. That was my second marathon and I still had no idea how to properly race. My race plan was to run as hard as I could for as long as I could. I thought I could just run through pain and my body was use to running dehydrated. Well my legs stopped working at around mile 21 and it look me over a 1/2 hour to get moving again.
Most adventurous decision you've made with your running: I've had a lot…rounding out the top 5 would be running the entire W&OD, CCT, Metro Line, and attempting to run 3660 miles this year. But the most adventurous decision was when Me and 11 of my running buddies decided to run from The White House to The Lighthouse in Edenton NC. We called it the WH2LH Relay in 2019. 200+ miles of fun running and time together in an RV. We had sponsors, social media, and an interesting interaction with a fallen tree. We scheduled a second relay this year which may be postponed for the time being.
Running mentors: George Buckheit, coach of Capital Area Runners (CAR). I met him through my friend Romilio I met from Caboose. He said I needed to learn how to properly train and race or I'll end up hurting myself so he introduced me to George and the CAR group. I don't train with them much bc they are based out of Arlington, but the training and race advice he taught me has gone a long way! It's actually very simple to follow but very effective.
My favorite place to run in the D.C. area is:  Ashburn because that's where Old Ox Brewery is which is home base to Trottin Oxen
Favorite local trail: W&OD is the trail I run most on, but I've been enjoying making up off trail and through cities and towns.
My best race was: MCM 2017…it was my redemption race to the disaster of MCM16 and the first time I got a Boston Qualifying Time. Not fast enough to register, but it was amazing just to be able to submit an application
Favorite local race: Trottin Oxen Donut Relay. I was planning on going down to the Krispy Kreme Challenge in NC, and Jenn Miller was like "why, we can just make an event here".
Ideal post-run meal: Tacos and beer!
Favorite flavor of gel, gu, etc: Mint Chocolate
Pet peeve: Injured runners who don't follow their physician's advice
Goals: For this year? Get a fast enough qualifying time to enter Boston. Run all the Metro lines, and run 3660 miles this year
Your advice for a new runner:  Hydrate, keep the pace sexy, and keep it fun because we don't get paid for this.
Favorite running book: I've never read one lol
Song in your head during a run: Christmas songs usually
Have you dealt with a major injury: My first major injury was when I made an attempt to run 40+ miles on the AT through 4 states, in the winter, on icy trails, without training on trail for over a year, with trail shoes that were over 2 years old. That was supposed to put me on the shelf for 4-6 weeks, but then a car accident happened and I was on the shelf for much longer.
Running quote: "Train Sexy to Race Ugly!" AKA train slow to race fast
Why is the D.C. area a great place to be a runner:  The running community here is amazing! Any day of the week if I need a running buddy there is a group out there, and most enjoy the same post run hydration that I enjoy!
Recent Stories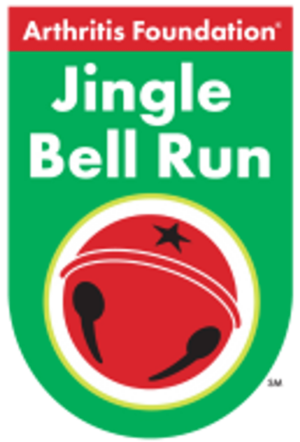 Be part of the original festive race for charity and signature Arthritis Foundation holiday event! Wear your favorite holiday attire and together, we'll jingle all the way to a cure! Register as an individual or bring a team of friends,