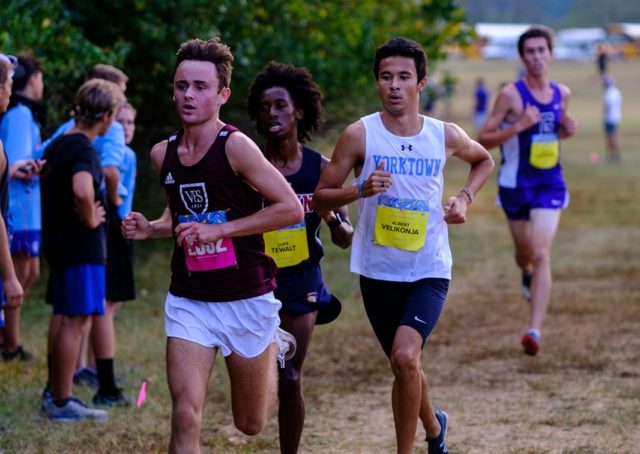 There's apparently a second layer to astrology that goes beyond newspaper horoscopes. According to my coworker, what time of day you were born adds a tint of good or bad fortune. For runners at the DCXC Invitational, what time of day they started their race made all the difference.  
That's because cloud cover alternated from race to race, providing much-needed relief from heat that reached the upper 80s throughout the afternoon, while also surprising some runners when they got on the starting line, thinking the hot part of the day was behind them. Those varying conditions just hammered home that the races, divided among graduating class, existed separately of each other. The format also gives runners a chance to race against their peers only, offering each class a chance in the spotlight. That did some favors for the seniors, whose races had the most comfortable temperatures irrespective of cloud cover.
With trace amounts of rain over the past few weeks, the course at Kenilworth Park in Northeast D.C. was spared the mud that deviled runners last year and sent them back onto the course to find their truant spikes. The course wasn't without environmental challenges, with the dust catching up with Virginia Episcopal School senior Daniel O'Brien, who won the senior race with the fastest time of the day, causing him to sneeze almost nonstop after his race.
Eight top-three finishers repeated placings from last year, with O'Brien defending his title for the Class of 2020.
The course follows two loops of Kenilworth Park, ending with a tight turn before the last 150 meters or so on an all-weather track. This was the meet's sixth year, which  Pacers Running designed to offer a top-flight invitational to Washington, D.C., which had but a few races with a handful of competing teams.
Read prior years' coverage of the DCXC Invitational: 2014     2015     2016     2017    2018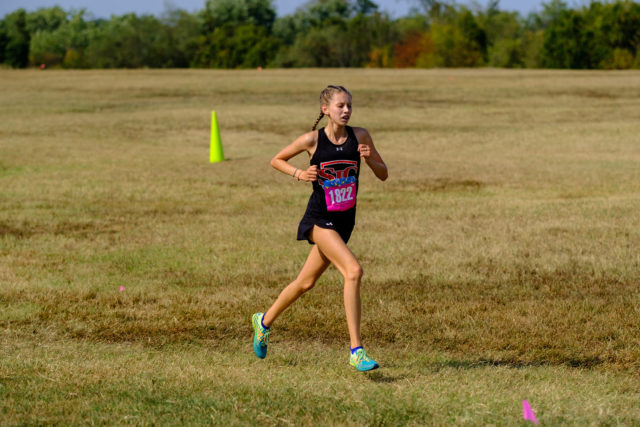 Freshman Girls
Last weekend, Meredith Gotzman spent her first 5k cross country race, at the Landon Invitational, jostling for position before crossing a series of narrow footbridges on her way to victory, both for her and her St. John's College team. She didn't have to do that in Kenilworth Park to win the freshman race. After two minutes of racing at the front of the pack, she took off.
"I just wanted to stay with the leaders, and when I realized I was the leader, I wanted to go as hard as I could," she said.
She was well clear of the rest of the field in clocking 5:55 for the first mile, with Wootton's Rebecca Vasconez trailing in 6:13. By two miles, which she hit in 12:16, she was exactly one minute ahead of Montgomery Blair's Alexa Avila. 
"I just focused on the lead bike, I chased it," Gotzman said. "I felt like my teammates were everywhere on the course. The longest I went without hearing anyone cheering for me was probably 30 seconds."
She went on to win in 19:09, with Avila second in 20:45 and Vasconez third in 21:18.
"I thought about chasing (Gotzman) but when I saw how fast she was moving before the mile, I wasn't feeling it," Avila said, noting that chasing after the win might have been an unwise gamble in the heat.
Meanwhile, Vasconez thought she drank too much water, given that her summer running routine of one mile a day on the Caribbean island of Trinidad had acclimated her to far more oppressive conditions.
"I was just hoping to have a good time with my friends," she said.
And she did just that.
Freshman Boys
The freshman boys' race featured a pair who are in their third years of running battling it out for most of the race. Gage Osborne of Northwest faced off against Pierre Attiogbe of St. Albans, with the pair hitting 5:29 for the mile before slowing to 5:50 for their second miles, with Grafton's Aidan Pentel a few seconds behind.
"We had a good pack early on until those two got away (in the first mile)," Pentel said. 
Osborne, the younger brother of 1:53 800 meter runner Chase Osborne, went for broke with 400 meters to go before making a tight left turn onto the track.
"I decided to give it all I had," Osborne said. "I was surprised by how much I had."
He prevailed in 17:27, with Attiogbe finishing in 17:43. 
"I never thought I could push myself that hard," Attiogbe said. "I improved a lot today."
He credited the thin field, though it was still 168 strong, with helping him focus on acing runners closer to his ability level as a ninth grader.
Pentel's Grafton team, from near Newport News, is a regular visitor for DCXC, and his older teammates pumped him up by telling him about the course.
"It's nice and flat, a lot different that we're used to," he said. "This is a good chance to run fast. I just have to start kicking earlier."
Pentel was third in 18:07.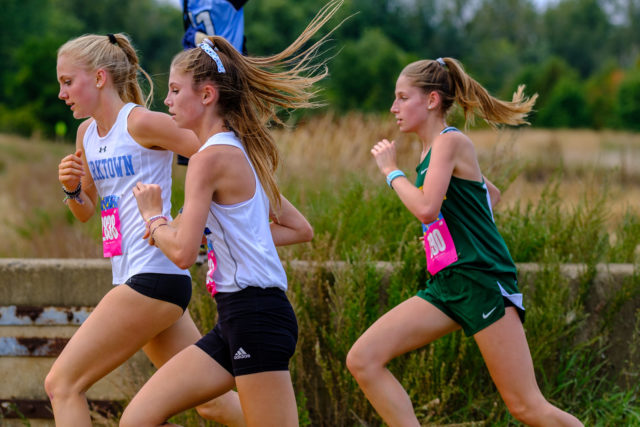 Sophomore Girls
A trio of girls stuck together throughout the sophomore girls race. Bishop O'Connell's Katherine Slovak, who won the freshman race last year, was back to try to defend her title. Fourth place finisher from 2018, Anna Macon Corcoran from Yorktown, was pressing the pace without making a definitive move to break away. And Georgetown Visitation's Lili Grant was thrilled to be there. 
They cruised through the first two miles in 6:09 and 6:37 before Corcoran opened things up in the last half mile.
"I heard someone yell that there was 800 meters to go, so I figured I'd kick then," she said. "My coach told me I should go in the last mile when I felt good."
She separated before hitting the track and finished in 19:41. Slovak followed in 19:54 with Grant in third in 20:05.
Slovak saw improvement all around this year.
"It wasn't muddy, the competition was better, I ran faster," she said. 
Grant is running her first serious cross country season after her freshman year was interrupted by a low heart rate that left her exhausted.
"I ran one cross country race and I was done for the season," she said. "I'm glad to have that behind me, because this is a lot of fun. And I can't really do any sports with hand-eye coordination."
Corcoran summed up the day for the runners in lucky races.
"Enjoy every minute, no matter what the race may look like when you first get to the course, the clouds may come out and change everything," she said. "I was very worried when I got here. We had runners from the earlier races sitting in the tent talking about how rough it was out there, but it was better by the time we raced."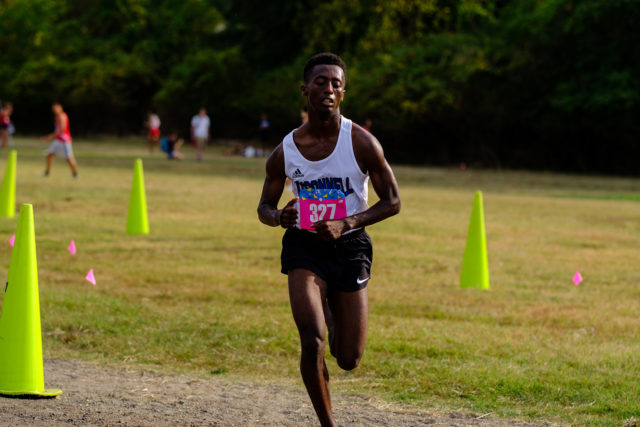 Sophomore Boys
Xavier Jemison put too much faith in technology. 
"In the first mile, my watch said I was going 5:10 pace," the McLean runner said. Turns out he was about to clock 4:56. 
"I just died right after that."
Fancy that.
Behind him, Bishop O'Connell's Yakob Kelley played it cool.
"I was surprised, I had no idea he was going to go out like that. I let him go," he said. He came through the mile in 5:01.
And Ben Madrigal of Grafton was even more cautious, taking the first mile in 5:07.
"My coach told me they were going to take it out fast, so I just tried to stay even," he said. Last year, Jemison and Madrigal finished first and third.
Kelley moved to Arlington from update New York's Fayetteville-Manlius 
Madrigal took the lead a little after the second mile mark, but Kelley responded and left him behind, winning in 16:29. Jemison tracked Madrigal down and passed him with about 200 meters to go, edging him 16:43 – 16:46.
Focusing on hydration the prior few days helped Kelley avoid trouble with the heat. 
He's new to the D.C. area, moving to Arlington in August just in time to join the O'Connell training camp. After being adopted from Ethiopia when he was 5, he had lived with nine siblings, all unrelated Ethiopians, in Syracuse before moving in with his grandparents so go O'Connell.
"I've always liked running, even back in kindergarten. My family signed me up and knew this was right for me."
In his first race in Virginia, he finished fourth at the Monroe Parker Invitational before finishing ninth at the Oatlands Invitational, one second behind DCXC junior race winner Damian Hackett.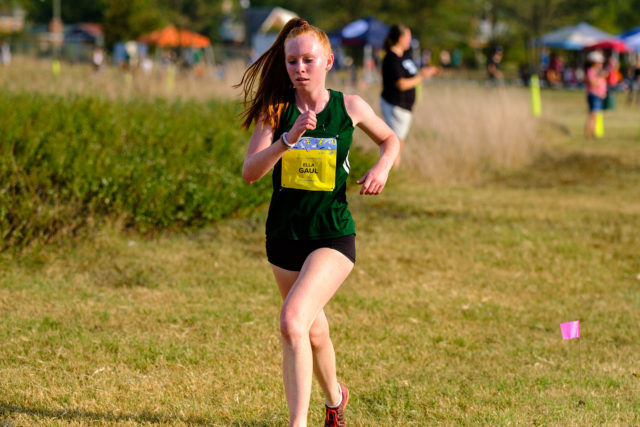 Junior Girls
Ella Gaul wants to be a mid-distance runner, and gently resists Walter Johnson coach Tom Martin's attempts to turn her into a distance runner.
She'll have to be a little more convincing than successfully running the last two miles of the DCXC junior race solo to win by nine seconds. She
After a 6:08 opening mile, she broke away from Holton-Arms' Natalie Desarbo and cruised to a 19:39 victory.
Behind her, Desarbo was taking notes on how to run cross country. Her first two seasons were limited, first by a knee injury, then by mysterious internal bleeding that required surgery to correct. Now she's out to prove herself on grass.
"This is when I turn it all around," she said.
Sidwell's Allison Barker learned the hard way, twice, the cost of going out too hard in the first mile at DCXC, so she hung back two seconds behind Gaul and Desarbo, then moved up, following Roosevelt's Fajr Kelly, who won the Lafayette Invitational a week prior in Colmar Manor Park.
She sped up, approaching the track, and followed Abigail Nasse until Nasse ran the wrong way, into the crowd. Barker finished third in 20:19.
She started running in eighth grade, after her soccer coach overheard her grousing about favoritism and playing time. After that conflict came to a head, she opted for cross country.
"Thank god I did, I love cross country now," she said.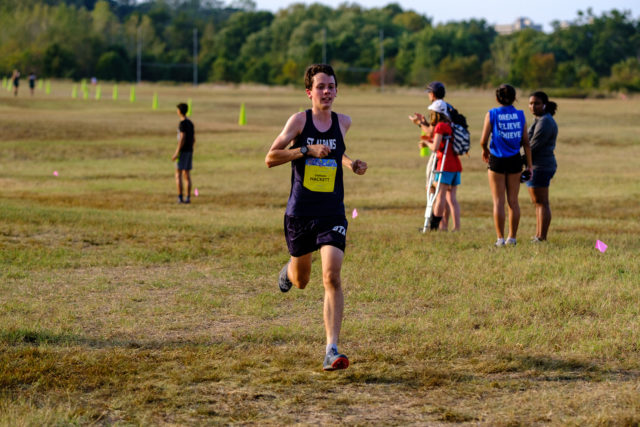 Junior Boys
Damian Hackett is working on getting a pilot's license, and did a solo flight this past summer. He also started to get some air at the Oatlands Invitational, where he opened with a 4:49 mile.
"I wanted to be a little more conservative today," he said. 
So he settled for a 5:04, with Grafton's Alex Murphy, Winston Churchill's Tsach MacKey and Gonzaga's Patrick Donnelly a few seconds back. 
"It was a strong start, but I felt like I was in control, so I pushed a little," Hackett, a junior at St. Albans, said.
He put four more seconds on Murphy, who was third in last year's sophomore race at DCXC, then added another second to his margin when he finished in 16:03, seven seconds ahead of Murphy and matching Daniel O'Brien's junior race time from 2018.
"I thought I'd make a move in the second mile, but I couldn't pick it up the way I wanted to," Murphy said. "It was only my second 5k so I am still figuring out what kind of shape I'm in."
Donnelly, who was second in last year's sophomore race, chased the two after Hackett made his move after the mile. He was two seconds behind Murphy at two miles, and finished in 16:27.
I just wanted to stick with the front group as long as I could," he said.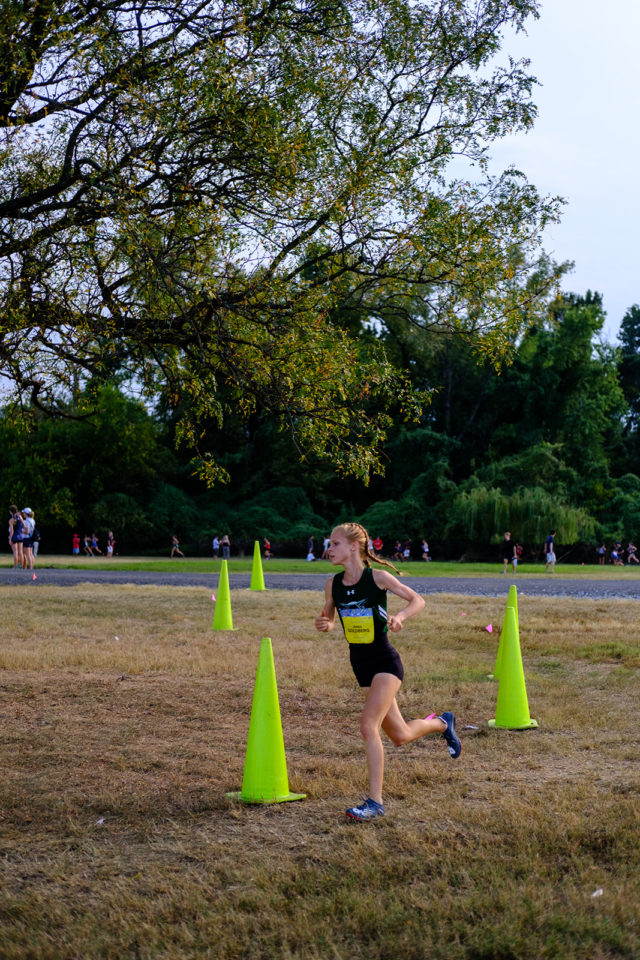 Senior Girls
Jenna Goldberg didn't want to lead the senior race wire-to-wire, so she eased into the race, leading a pack of nine other runners, before opening a 10-second lead at the first mile mark, before adding nearly a half-minute to that lead by two miles. She closed out the girls' races with a second Walter Johnson win in 18:05. She was third as a junior last year.
"Sprinting out the gates never works well for me, so I was a little more moderate at the start," she said. "Then nobody else wanted to run hard, so I just went."
Behind her, Episcopal's Allie Boehm was still figuring out cross country, four races into her career in the sport.
"Once she went, there was no one nearby, so I tried to figure out how fast I was going," she said. "After a while, she was gone, so I was just playing it by ear."
She and her twin sister Claire, who finished third and fifth at last weekend's Landon Invitational, left soccer to enhance their college prospects for track, where they are mid-distance runners.
"The soccer team didn't like that, they're not happy with us," she said. "The girls in every race are really nice. It's less aggressive than soccer."
Boehm, who finished second in 19:05, had a 10-second lead over George Marshall's Sophie Tedesco at mile two, but Tedesco's presence motivated her to keep going.
"I'd look back and she was there so that was keeping me in it," Boehm said.
For Tedesco, who finished third in 19:27, the important part of the race was to keep pushing despite the grind of the race.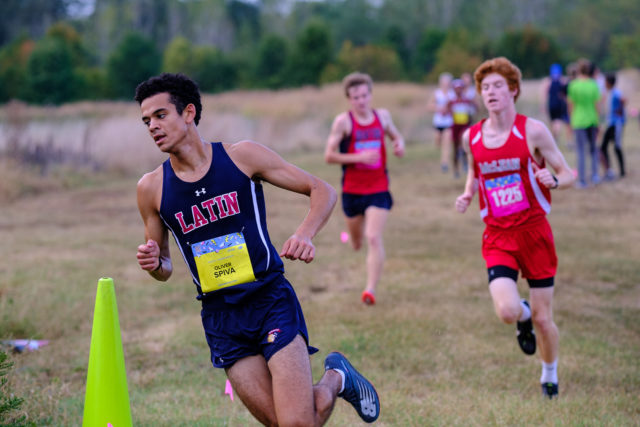 Senior Boys
Daniel O'Brien wanted to go out fast for the senior race.. He just didn't think he was going to end up going out in 4:44. Albert Velikonja and Luke Tewalt, plus Cullen Capuano two seconds behind the trio, didn't think the first mile would be that fast either, yet there they were, hanging on O'Brien's early pace.
"I think we all ran well off of it," O'Brien, from Lynchburg's Virginia Episcopal School. He won the junior race last year over Tewalt. 
Velikonja say the splits as immaterial to his goal.
"I knew that to make it to Foot Locker nationals, I'd have to run like Daniel," he said. O'Brien finished 12th at the individual national championships last December. "I feel like if I could do that, I'll have a pretty good shot, so I just went with him. I wanted to test myself today."
O'Brien got away from Yorktown's Velikonja and Washington Latin's Tewalt halfway through the race and came through two miles in 9:47, with the latter two passing in 9:53 and 9:54. Capuano, the Gonzaga runner who finished second to Tewalt on this course at the D.C. state meet last year, was firmly in no-man's land, passing two mile in 10:06 with a 24-second lead over the chase pack.
With 600 meters to go, Tewalt tried to surge up the hill leading to the track, but once he pulled even, Velikonja kicked away to finish second, 15:28 – 15:35. O'Brien finished with the fastest time of the day, 15:18, netting him the Ray Boss Award.
Tewalt, who finished second here to O'Brien last year, was making his season debut after an injury layoff at the end of the summer.
"I know it would be super fast with these guys," he said. "I wasn't prepared for how fast it was going to be. I was on pace for a PR, so I was excited no matter how it was going to end."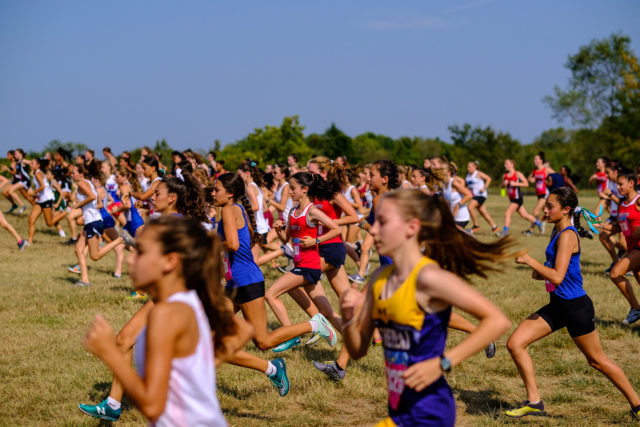 Recent Stories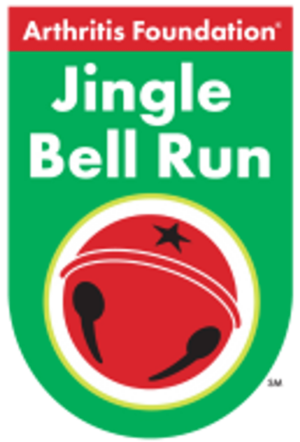 Be part of the original festive race for charity and signature Arthritis Foundation holiday event! Wear your favorite holiday attire and together, we'll jingle all the way to a cure! Register as an individual or bring a team of friends,