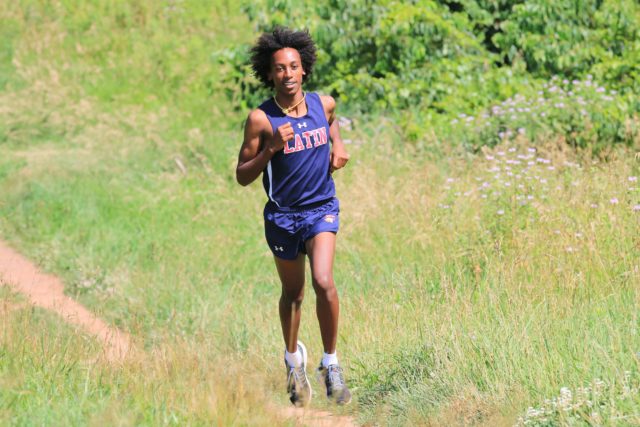 When he tore onto the track at Kenilworth Park while finishing the DCXC Invitational, Luke Tewalt wasn't upset to be counted third among seniors. Nearing the finish line as the clock turned over into the 15:30s, he knew he was going to PR no matter what (he ran 15:35), and that was unthinkable a few weeks before.
On his second set of one of his favorite workouts as Washington Latin Public Charter School's season got started, he felt something go wrong in his right glute.
"It was a twinge, but I felt like I could run through it," he said. "A little while later, I couldn't move without it hurting."
He stopped immediately. He thought about the cross country and track season, and whether he'd be running. He thought about Wake Forest University, where he was about to make his verbal commitment. He thought he might be missing all of that, until his coach, Caroline Rose, got to him.
"I was a mess, I was practically crying that my season was over," Tewalt said. "She talked some sense into me. It was just a little injury, but I had never really had anything take me out for more than a few days."
He also had never had a coach-athlete relationship that he trusted in the same way. Rose knew where he was coming from, having recently completed her intercollegiate career at Amherst College.
"It was the first time I had a coach who had competed in college, who knew a lot about running and not just how to condition," he said. "She really knew a lot about running, and I liked that."
Before that, he did the conditioning, but didn't track his miles, didn't push himself on runs off the track. His long runs were off the watch, and he was just waiting to get back to the track, where he ran 9:03 to win the AAU Junior Nationals title in the 3,000 meters as a freshman. He got by on his talent.
"I liked to race, but that was it," he said.
Rose knew how all the components of training fit together with racing, thanks to the strong programs she was part of at Amherst and Richmond's Maggie Walker's Governor's School, and she applied that to Latin's teams.
"I came into a program with a good base, and we added some mileage and workouts," Rose said. "I took it seriously, and I think Luke responded to that.  (The Latin runners) saw I wanted to bring a new level to the work they were doing."
Tewalt embraced a more systematic approach to training.
"I started looking at myself as an overall runner," he said. "I saw cross country and mileage as an integral part of becoming a well-rounded runner, not just a miler."
Latin also started to going to more competitive meets, like the Glory Days Invitational, where he finished third, and the DCXC Invitational, where he finished second to Foot Locker finalist Daniel O'Brien. His junior cross country season ended with a D.C. state championship (he was runner-up as a sophomore) and a 23rd place finish at Nike Cross Southeast in cold rain and a lot of mud.
That year-round dedication paid off when he ran 4:14 to finish second at the DMV Meet of Champions in June, after winning the 800/1600/3200 meter triple at the D.C. state meet with a leg of the wining 4×800 meter relay thrown in. Along with Gonazaga's Cullen Capuano and Gavin McElhennon, St. Albans' Damian Hackett and Woodrow Wilson's Dylan Blumenthal, he's part of one of the strongest Washington, D.C. cross country packs in years.
"Regardless of how he's feeling, he brings so much energy to his training," said senior teammate Oliver Spiva. "Regardless of how much sleep he got the night before, regardless of how his day has gone, he's here, ready to go. He's definitely put my mind in the right place to run fast."
As the calendar turned to September and his peers started racing, Tewalt's mind wasn't in the right place Spiva was talking about.
"I was hoping I didn't ruin anything," he said of what turned out to be an injured hip. "We decided we were going to treat it like it was a life-threatening injury."
Without much experience with injuries, Tewalk didn't know how to react. After making running such a serious part of his life, he was seriously lost without it.
"If I got for a few days without running, I don't feel like myself, so going three weeks was driving me crazy," he said.
Three years before, he wouldn't have cared, he might have even been thankful for the excuse not to run cross country.
"Not this time, I wanted to get back, and it was really hard not to start up too early," he said. "I tried going for a run once, and a few steps in I felt it again. I stopped as soon as I felt that, I didn't want to start the clock over again."
So he hit the gym, strengthening his hip to correct the muscle imbalance, stretching, keeping his aerobic fitness afloat on a stationary bike. He waited for the chance to be unleashed once the pain was gone.
"All that time without running really made me feel thankful for what I could do," Tewalt said.
At DCXC, he saw what he could do.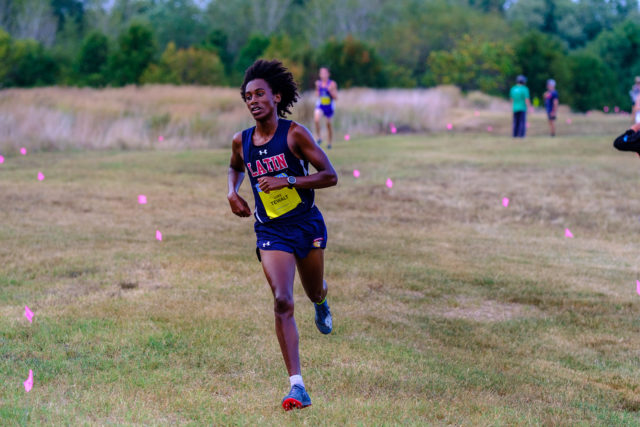 ---
RunWashington is throwing in a season-long surge of cross country coverage. In September, we're featuring our All-RunWashington team. So far we have profiled:
Recent Stories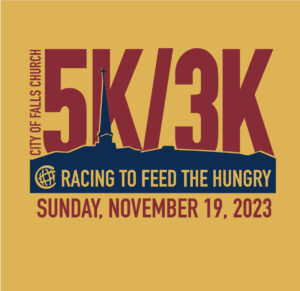 The out and back Falls Church City 5K/3K course is mostly flat on the W&OD Trail starting and finishing at 103 Columbia Street. Overall male and female winners earn free shoes and medals are awarded to all categories. Great family