Rich Mendelowitz sat in a doctor's office looking at a picture of his brain. The photo lit up on the left side, healthy and full of arteries.
But, the right side was totally blank.
Mendelowitz, 59, was completely in shock. He's the president of DC Road Runners and has run 2,000 miles per year for most of his life – and doctors told him that's why he wasn't already dead.
"The only reason I was alive was because of my fitness and running," the Arlington runner said.
Our Spring 2018 issue is out in running specialty stores, with a look at the year-end runner rankings, Marine Corps Marathon champion Desta Morkama, the state of the local running industry and more!
RunWashington magazine is published twice a year – in April and August. You can also view it online here. Issuu also has back issues dating to August 2013.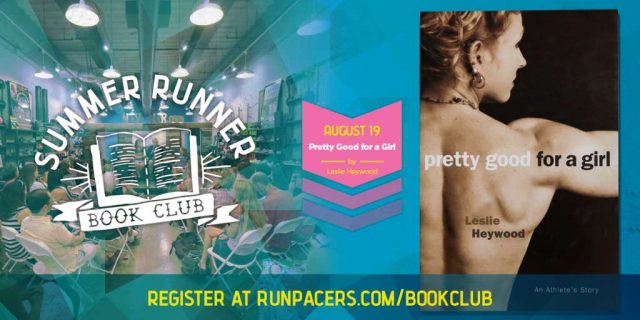 Author Leslie Heywood talks about her memoir, Pretty Good for  Girl, which will be the subject of the Aug. 19 Pacers Summer Runner Book Club meeting.
Heading into the Boston Marathon on Monday, April 18, 605 Washington, D.C.-area runners have registered, though some may not race.
Last year, 615 D.C.-area runners crossed the  finish line.
Arlington's Mike Wardian (2:27:35) and D.C.'s Caitlyn Tateishi (2:52:52) led local runners, with D.C.'s Dave McKay (2:27:45), Rockville's Jay Hudson (2:39:55), Fairfax's Rochelle Sceats–Basil (2:58:42) and Bethesda's Natalie Atabek (3:04:50) led their respective states. Ben Beach, of Bethesda, finished his 50th straight Boston Marathon.
We usually publish the list of local entrants, but the BAA website is telling us not to, so you can search for registered runners at your leisure here.
Then, sign up to track them here.
Ethiopian Jamel Yimer (21) blew apart a large pack of runners in the seventh mile and hung on to beat Ethiopian-born Ayalew Yimer (25) by five seconds, an eternity for a race that usually sees closer margins at the finish line. His 4617 is the fastest winning time since Stephen Sambu's 45:29, save for 2015 when the race was only 9.39 miles.Meanwhile Ethiopian Buze Diriba won the women's race after two straight runner-up finishes here.
Cherry Blossom Ten Mile
April 8, 2018
Washington, D.C.
10 miles
"I knew I was going to win at 12k," Jamel Yimer said. "I didn't run the time I wanted to, but I am happy with the win. My training was going very well, so I was confident I could beat anyone in the field."
Yimer ran his first half marathon in 59:00, earlier this year in the United Arab Emirates.
Portland's Chris Derrick was the first American, running 46:53 for fifth overall.
"I wanted to sit back in the pack, because it was pretty big and we had some guys with firepower in there," he said. "I didn't quite have my top fitness with me, but I was happy with how I was able to battle a little bit."
D.C.'s Clint McKelvey was the top local men's finisher in 50:14, edging Jeff Stein by five seconds. Paul Thistle (50:32) edged Matthew Centrowitz, the 2016 Olympic Gold Medalist in the 1500 meters who ran 50:38 for 30th place. Greg Mariano rounded out local finishers in 38th place in 52:22.
Diriba's 3-second victory over Gebrekidan in 53:45 was much tighter than recent women's races, excluding 2015. Last year, Gebrekidan (22) won with a 15-second lead over Diriba (24).
I ran by it dozens of times on my routine eight-mile loop on Great Falls and Westmoreland. Down at the bottom of the hill near Lemon Road, it looked like nothing more than a neighborhood shortcut..
I don't remember what prompted me to actually check out what turned out to be the Pimmit Run Trail, but I do remember the odd sense of wonder that took hold when I did. I had some exploring to do.
That, understandably, sounds strange. How lost can you get in McLean? It might be counterintuitive, but the prospect of somehow losing my bearings inside the Beltway only made the prospect of exploration more interesting. It wasn't so much about charting new territories, but seeing where I'd end up. I knew the path from Great Falls Road would eventually get me to Westmoreland. When I saw that the trail continued on the other side of the street, a little to the left, all bets were off.
I'm not a fervent trail runner. It's not that I dislike them, but my body has always held up well on pavement and I figured I had better things to do than spend time traveling to run in a park when it was all the same to me. Well, now I didn't have to choose. Rather than tearing through the trails, the mildly technical terrain, especially north of Old Dominion Road, forced me to savor the experience.
The fun for me became finding out where I'd pop out if I left the park.
"Tucker Ave? I don't even know where that is!"
I fancied myself looking for a route to the Potomac River. I knew I was headed in the right direction, there had to be a way…
There is, but it's tricky. And although I fear I am ruining the experience you could have exploring for yourself – for me, the trial and error was half of the fun – here's some specific direction to keep you on track.
If you reach the Highlands Swim and Tennis Club, head up Bryan Branch Road to Linway Terrace. After a quick left on Kirby Road, you have a choice. Keep going on Kirby, head into the Marie Butler Leven Preserve and take one of the wooded trails until you reach Maddux. Or take a right on Chesterbook and left on Maddux.
On your right, shortly after 1607, you'll see a path to the downstream section, which will bring you along the George Washington Parkway and onto the Potomac Heritage Trail, where you can get off at the Chain Bridge.
There are some creek crossings, and sometimes your foot will have to take the plunge to take the next step. But each next step will make you appreciate what you'll continue to find.
The Pimmit Run Trail is a 1.5-mile run from the West Falls Church Metro Stop. One section of the trail that purportedly connects to Olney park in Pimmit Hills is impassible because of fencing under the Dulles Toll Road.
Coach Herb Tolbert can't go anywhere in Gaithersburg without someone calling out, "Hey, Coach!"
It's a testament to his commitment to the community. A retired Gaithersburg High School guidance counselor and one of the school's track and cross country coaches, Tolbert has been a pillar in the Montgomery County running scene for over 40 years. Still proud and enjoying what he does, Tolbert is nearing the point where he's coaching his kids' kids' kids.
"It's kind of like six degrees of Coach Tolbert," he said with a smile.
Tolbert, 70, has spent his entire teaching and coaching career at Gaithersburg, and simply put, it's the kids and close-knit community that have kept him there.
After a really long chit-chat intro, we start things off at (7:54) Joanna starts us off with her promised transportation tale.
At (20:21) we are joined by Olympian Ben Blankenship.  At (23:28) Ben talks about his time in Washington DC, what brought him to the DC area, getting back into the running scene and his early years as a professional runner.
At (33:52) Ben gives us some unique insight into professional running.
At (39:45) we discuss the 2016 Olympic trials and at (43:40) we talk about the 2016 Olympics.  At (52:15) we talk about the 2017 mile race in Alaska.
At (58:02) we talk about Ben's age.  At (59:40) we talk about the indoor world championships. At (1:01:15) we talk about whats coming up next for Ben.
At (1:04:27) we sneak dogs into the interview before Farley wants to talk about manly things.
We are back at (1:08:45) to take guesses at Ben's age before at (1:11:15) we talk about Potamac junior McKenzi Watkins who competed in the Brian Watkins Invitational, a race that honors her late father.  At (1:14:29) we get an update on the St Baldrick's foundation fund-raiser.
At (1:18:00) we announce our next PTN Happy Hour April 20 after the Crystal City 5k.
At (1:19:23) we wrap things up with a quick discussion about the Barkley Marathons.
Military academies are some of the most revered institutions in the country. Many only take in around 4,000 students in total. Among that small number of students, even fewer compete in varsity athletics. Meet three local athletes now running at the United States' military academies.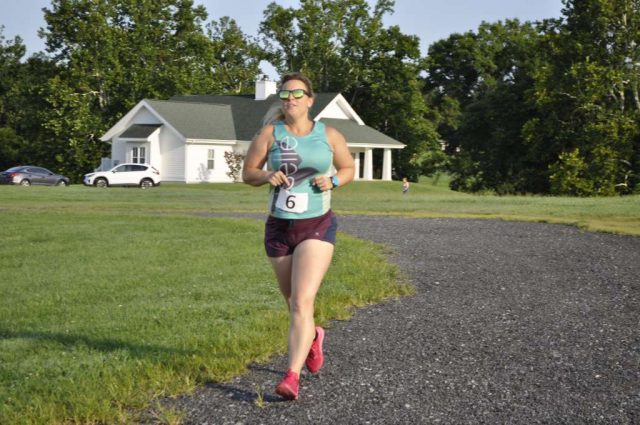 Name: Adrienne Moore
Self-described age group: A new masters runner!
Residence: Falls Church
Occupation: military musician
Volunteer roles in the running world: D.C., Maryland and Virginia team leader for Oiselle Volée running team