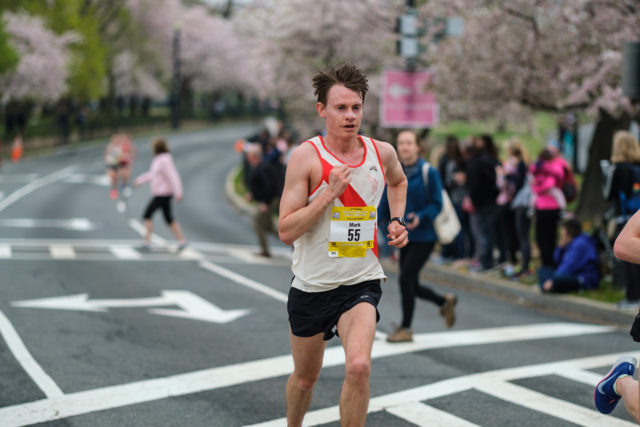 Mark Leininger did a lot while in D.C., including breaking the American University 10,000-meter record. But running off the track, at the Credit Union Cherry Blossom Ten Mile Run, spurred him to greater heights and longer distances. 
"I didn't really think about [competing post-collegiately on the roads] too much," Leininger said. "I wanted to still run faster on the track."
What made me consider it was when I ran Cherry Blossom right after college and I ran 49:08, and that's on pace if I were to continue for a half marathon to qualify. After I did that, I thought about running a half-marathon to qualify [for the Trials]. [Cherry Blossom] was my longest race just coming out of college, and it made me realize I could probably run a pretty fast half-marathon."
Since his breakout performance, Leininger has expanded his range and competed in the marathon in the 2016 Olympic Trials. And thanks to a career-best performance of 2:17:51 at the California International Marathon last December and a 2:18:00 six months later at Grandma's Marathon, Leininger is headed back once again to American running's biggest stage, where he hopes to build off his past Trials experience and surpass the competition.
Trials Fever
The 2020 Olympic Trials are Feb. 29 and by then nearly two dozen runners with connections to the D.C. area will be on the starting line. Read about some of them in our Trials Fever series.
Leininger started his distance running career as a ninth grader running for the nationally competitive Colts Neck, N.J. cross country team, but instead of pursuing the longer events on the track, he chose to try his hand at the pole vault. He quickly learned that he was better suited for the long distance squad, and success immediately followed. He won an indoor track state championship title in the 3200 meters by way of a definitive move with 600 meters to go. His talent and work ethic made an impression on his high school coach, Jim Schlentz.
"What stood out was that he started getting serious about it sophomore year and the more serious he got, the better he got," Schlentz said. "He fell in love with it because he kept getting better, and the more you get better, the more you try, the better you get. He started showing real talent junior year and senior year and finally won a state championship."
His next step was American University, where he held his own in the 5,000 and 10,000 meter events. Then, beginning in his senior year, Leininger adopted a more confident approach late in races and saw his times drop dramatically (including setting the school's 10K record). That newfound confidence became a defining characteristic for the rest of his career.
"He went from a good guy who questioned his ability to the point where now he feels more confident and therefore runs with more confidence and is running so much stronger and faster," Schlentz said.
Leininger stayed in the D.C. area to complete graduate school at American, while also competing for Pacers Running and testing his abilities at longer distances. He then took a six-month break from running to travel and refresh.
He couldn't stay away from the sport for long.
"I just missed it," he said. "I had run that Cherry Blossom race, it had gone well and I was thinking about that and that I could run a good half [marathon]. That would be a really cool bucket list thing to check, to qualify for the Trials. I was talking to my high school coach and he talked me into giving it another try."
In July 2015, Leininger moved down the coast to South Carolina and joined the Greenville Track Club, with the goal of making the Trials at the forefront of his mind. Building off the success of his Cherry Blossom performance, Leininger upped the distance even more and surprised himself again. In the Jacksonville Half Marathon in January 2016, he ran a 64:27. The time qualified him for the marathon in the Olympic Trials, which would be held mere months after Leininger's half marathon performance.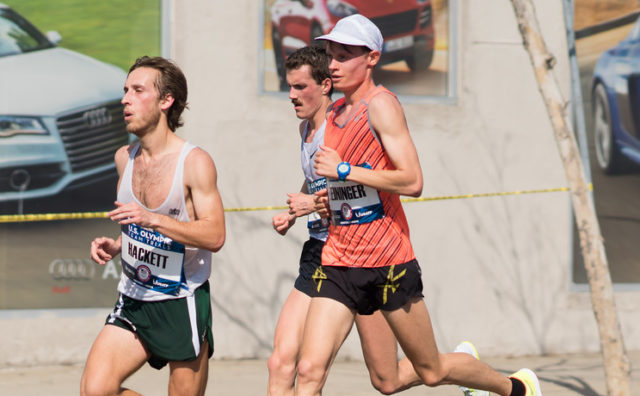 The Olympic Trials was an eye opener for Leininger. But considering the blistering Los Angeles heat and Leininger's lack of marathon training and experience, it also stands one of his gutsiest performances.
"I came in 60th [in 2:28] and I didn't train for the marathon, so my goal was to finish," he said. "I think I placed much higher than I would've if it was a cooler day because a lot of people dropped out of the race. Just by staying conservative and finishing the race I think I would've placed better than I would've in other circumstances."
With the experience of the Trials under his belt, Leininger adjusted his training for the marathon distance and set his sights on the 2020 Olympic Trials. When it came to qualifying, Leininger opted to race in the California International Marathon, well-known for its top-notch competition and propensity for fast times. It also didn't hurt that the race (held in December 2018) was over a year before the Trials, giving Leininger chances to qualify if he couldn't hit the time, and more than sufficient time to train for the Trials if he did qualify. 
As it turned out, he wouldn't need any more chances. Leininger executed his strategy flawlessly, sticking with the pack through the first 20 miles while keeping a measured pace. After slowing down his pace slightly through miles 18 to 23, he found that he still had enough energy to finish strong. "I was pretty sure I was going to qualify with two or three miles to go. I was getting pretty excited in my last mile, my fastest one of the race. It was more of a relief at the end. I had been working toward it for a few years. I knew I could do it, but I didn't want it to come down to a race just before the trials to qualify. I was happy to get it done."
Leininger, who returned back to his home state of New Jersey two years ago, is making the most of the extra training time. He reunited with Schlentz in developing a training plan and keeps in close contact with his high school coach.
"With the marathon, I usually do a 12-week block where I am more focused on doing higher volume and good long runs and a lot of strength work," Leininger said. "Jim Schlentz, he helps me with that. It's a collaboration. Especially for the marathons, we build a plan together and he comes to watch some of my workouts."
Schlentz has been most impressed by Leininger's durability, which has enabled him to grow from the strenuous marathon training schedule. "He's really good at staying healthy," Schlentz said. "He's been able to handle way more training than I thought he was going to be able to handle. Pretty much everything I've thrown at him, he's been able to handle. His strongest point is his capacity to handle marathon training and not be constantly hurt like a lot of guys are." 
Outside of the running world, Leininger recently opened a company that specializes in preventative health screenings, hearkening back to his roots in health promotion at American's graduate school. As he found out quickly after graduation, balancing high mileage weeks and a full time job is no easy task.
"I think most runners after college are in that same boat," Leininger said. "It's just getting up early, the weeks are long. I think if you're able to try to find something where you don't have much of a commute or your boss is flexible and understanding with you or you take a longer lunch or at a different time, those things help tremendously. Basically, it's just a grind."
Atlanta, the site of the 2020 Trials, will present challenges of its own, given the notoriously hilly course and talented field of competition. Leininger's goal is more place-oriented, as he aims for a top-30 finish and improvement over his finish in the 2016 Trials. "I know the course [in Atlanta] is supposed to be really hilly, so I don't think anyone's gonna run a super-fast time. I'm just hoping to maybe be top 30. I'm not worried about the time, I just want to run a good race. I don't know if I'll keep running too much longer competitively, so I'll try to enjoy the experience."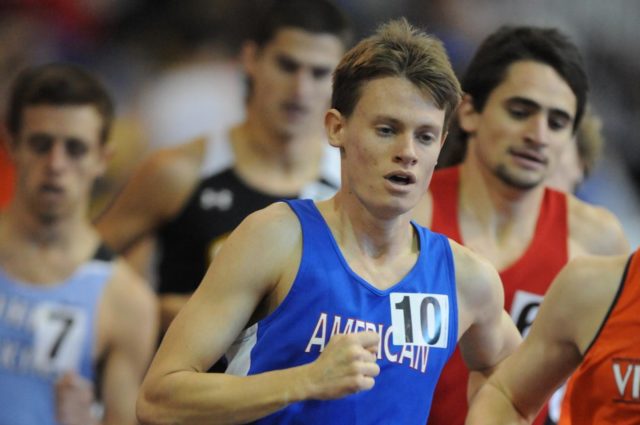 Recent Stories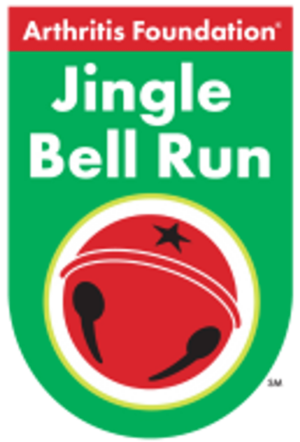 Be part of the original festive race for charity and signature Arthritis Foundation holiday event! Wear your favorite holiday attire and together, we'll jingle all the way to a cure! Register as an individual or bring a team of friends,