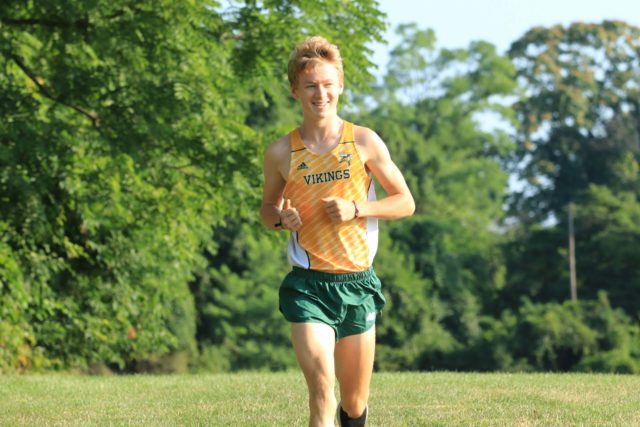 In the past few years, Loudoun Valley has built tremendous depth with a large team that typically wins most, if not all, team titles at different invitationals – varsity and junior varsity. Kevin Carlson has seen that from the Vikings' varsity team since 2016.
But with that depth come some tough calls when the numbers crunch for championship races, and that's where the Vikings found themselves last November. With another Nike Cross Southeast title in hand, the harder task was figuring out who would represent the team as it went to defend its 2017 title. Carlson finished 113th overall that year — 7th for Loudoun Valley, but in the scoring five for all but three other teams.
Carlson and Mateo Barreto finished in a dead heat for number seven on the team in 2018. Barreto, like Chase Dawson a year before, ran unattached. In essence, the free agent must just beat the last Viking to make the team. It's cutthroat, but when a team trains for November but is limited to seven runners through the Virginia postseason, it's the most effective way to field the strongest team, if only by fractions of a second. That 2018 team went on to be the first repeat NXN champion on the boys' side.
"We had to ask to see the video replay, that's how close it was," Coach Marc Hunter said. "From where I was standing, I could see Kevin cross first. The video showed Mateo first."
Ultimately, Baretto got the nod, and the last spot on the nationals team. Just like Kellen Hasle the year before, Carlson was the first man out.
"That was a crushing blow, and it's natural to be disappointed. He wanted to race nationals just like everyone else," Hunter said. "But he didn't let that break him."
Throughout the indoor track season, even as a two-mile specialist, Carlson kept working. By the end of the season, he made the four-mile relay team for New Balance Indoor Nationals, leading off in 4:22.26 for a team that won and set a national record, shaving .01 seconds off Valley's 2018 run.
"I wasn't going to just put him on there, you can't feel sorry for yourself too long," Hunter said of the relay. "He came back and he earned that. I couldn't have been happier with the way he kept himself working."
He's the longest-tenured member of the Vikings' top seven, and he's seen the team's profile rise from the inside, and he has some notions he wants to dispel. 
"A lot of people (on the outside) thought our team was Sam Affolder, that they were one and the same," he said. "They'd say Sam and Loudoun Valley did this," about the University of Washington freshman who twice finished second for the Vikings at Nike Cross Nationals. 
"This year is about showing everyone that what we do is a team effort, and people outside recognizing what we've known all along. One person can make an impact but they're not the entire team. We learn from each other, we definitely learned things from Sam, but we're all part of this."
Finding perspective when his high school career is still in progress is understandably hard, and he might not get a good grip on it all for years.
"It's weird because I don't understand the full impact of what we've done," he said during an early morning group run in July, attended by dozens of Viking runners. "I have these guys who are all my brothers, we've been running together for so long, and I feel like this high level of performance is what is expected of us. And we're ready to keep it up."
Four years ago, Carlson wouldn't have seen himself part of a leadership group for the two-time defending national champions. He joined the team as a freshman, just looking for something to do in the fall before swimming and tennis seasons started.
"It was either going to be golf or cross country," he said. "I'd run before but I didn't really expect anything out of it. Cross country came around and I liked it."
He showed some promise at his second race, enough that Marc Hunter had a talk with him.
"He told me I had a lot of potential, and I was a good runner," Carlson recalled. "He told me I would have to quit the other sports if I wanted to be a great runner."
A week later, he won the underclassman junior varsity race at the Oatlands Invitational, running his way onto the varsity team for the rest of the season. Even as that season ended with a state championship, he didn't feel like running was truly his sport until he set a nearly-9-second PR, running 4:32 for the 1600 meters.
"I like setting time goals that I can aim for in track," he said. "Seeing my progression is probably the best internal motivation."
He's also motivated by the chance to perpetuate what the team has built, that depth. He takes an active approach to welcoming new runners, particularly freshmen who, like him could discover a talent and love for the sport.
"I come right out and ask them to join us for runs, let them know we want them out here with us," he said. "We want them, when they come to the choice between taking the easy way out or working hard, we want them to work hard."
It's been a little bumpy for Carlson, with hip, knee, ankle and foot injuries all at different times, and bronchitis that kept him out of a lot of training last fall. 
"That stuff happens," he said. "It's more I have to prove back to myself."
He's off to a good start, finishing sixth and fifth in his first invitations, both Valley wins.
---
RunWashington is throwing in a season-long surge of cross country coverage. In September, we're featuring our All-RunWashington team. So far we have profiled:
Recent Stories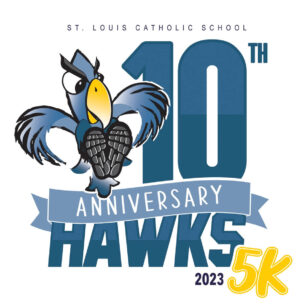 2023 will be the 10 year anniversary of the St. Louis Hawks 5K and Fun Run for Health & Wellness. The USATF certified course runs through the historic Hollin Hills neighborhood in Alexandria, VA.
The Hawks 5K goal, in conjunction