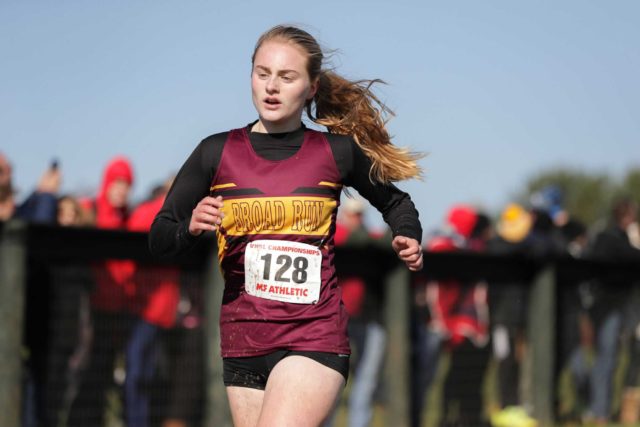 Successful partnerships between coaches and runners all involve some give and take. Regardless of how established a coach is, two-way communication is crucial to keeping runners healthy and improving. For a new coach whose native sport is soccer, like Lauren Brewer at Broad Run, having a runner who knows the ropes helps a lot.
Senior Ellie Desmond has been doing her fair share of teaching.
"When last year started winding down, she saw how many seniors we were losing and knew she had to step up," Brewer said. "As soon as the track season ended, she asked if she could take on more responsibility and help guide the team."
Brewer had been an assistant cross country coach the previous two years, but was still new to the structure of distance running training programs. Fortunately Desmond was a voracious student and willing to offer her experience.
"We got the coaches and captains together and came up with a program together — the long runs, tempo runs, track work, why it's important to schedule things a certain way," Brewer said. "She's absolutely put her footprint on the way we run the team. She's setting the standard, and she knows how to communicate to the other runners how I want to run this team."
Brewer wants to see cross country respected for the sport it is, not just a conditioning club for other sports' athletes. With an influx of sophomores and juniors this year, she sees an opportunity to change the way the team is viewed.
"We have rugby players, tennis players, other athletes, but we want this to be a family of runners who want to focus on improving, no matter what level we're at," she said.
She has incorporated more core and plyometric work for the team, and brought along five of her soccer players to help infuse the team culture.
Desmond got into the sport because her older brother ran, but quickly made her own name. She was the top freshman in 5A as a freshman, finishing 13th, and moved up to 4th as a sophomore. With about 25 seconds to go, she took the lead at the state cross country meet in 2018 before Deep Run's Lily Snow kicked her down to win by three seconds.  She also finished second in the outdoor 1600 meters, running 4:50.09 but losing to Bethany Graham by .03 seconds. Her 2:14 800 meter PR also helps establish her as a strong middle distance runner.
"That was really hard on her, losing by such a small margin," Brewer said. "That's still driving her. She was one of the hardest workers before, but she's that much more focused now."
Desmond attributes her improvement to her increased training volume – though she's not a high mileage runner – but her focus on turnover during the track season has given her confidence.
"I really wanted to get down to 4:50 (in the 1600) and I was close to getting under 4:50," she said. "It felt good to set a goal and get close to it."
Outside of running, she is heavily involved in DECA – a business leadership program – and she competed in an international competition in Orlando, presenting a social responsibility plan her team developed for a local comic book store. She is also her senior class president.
"I'd like to get the rest of the students involved in the rest of the school," she said. "When you care about other people, what their teams are doing and what their clubs are doing, it just makes it a lot more fun to come to school. It makes it more of a community, and I feel like we've lost that, the last few years."
Her campaign platform?
"I gave out donuts."
Her presidential initiative mirrors her approach to the cross country team, Brewer said.
"She wants everyone on the team to enjoy running and do the best they can." She said.  "I don't know what I'll do next year without her, and not just because she is fast."
For Desmond, next year will be at the University of Virginia.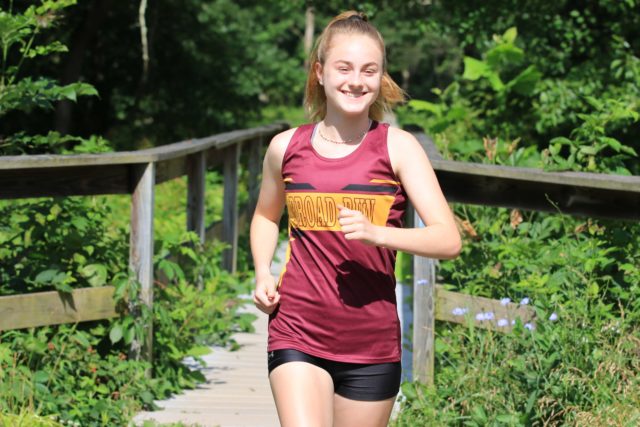 ---
RunWashington is throwing in a season-long surge of cross country coverage. In September, we're featuring our All-RunWashington team. So far we have profiled: