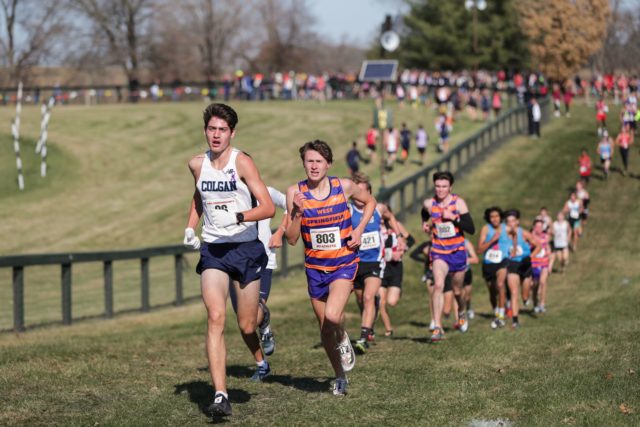 Ahead of the Virginia state championships, West Springfield coach Chris Pellegrini figured the race would essentially be a dual meet with Oakton. 
In a dual meet, a 1-2-3 sweep can't be beaten. While muti-team meets are a little more forgiving, seniors Sean Stuck, Sam Pritchard and Chris Weeks made the Spartans a tough act to follow. Stuck won the race overall, running the 5k course at Great Meadow in 15:21, the fastest time of the day. Second place Wesley Bond of Landstown and third place Bryce Lentz of Colgan didn't have teams in the race, so Pritchard's 15:50 and Weeks' 15:53 counted as second and third for scoring purposes.
They edged Oakton juniors Zach Morse (15:56, fourth among team scorers) Garrett Woodhouse (16:05, sixth) and Arnav Tikhe (16:14, ninth), with a gap back before West Springfield's sophomore Nate Pohlsander (16:32, 15th) and junior JJ Comley (16:40, 18th) finished ahead of Oakton juniors Bryce Buttrey (16:47, 21st) and Nelson Jenkins (16:49, 23rd). In a smaller field than the Great American Festival in October, when Oakton came out five points ahead in their only head-to-head matchup, West Springfield had a 39-63 win.
VHSL Championships
Nov. 16, 2019
Great Meadow, The Plains, Va.
5k
1.Sean Stuck West Springfield 15:21
2.Wesley Bond Landstown 15:44
3.Bryce Lentz Colgan 15:49
1.West Springfield 39
2.Oakton 63
3.W.T. Woodson 97
"I thought we could put two in the top five, but I didn't think Chris Weeks was going to show up like the old Chris Weeks," Pellergini said of the track specialist who was the last among his teammates to catch a cold this fall, whose recovery started only recently.
"The whole race I was thinking of beating Oakton's three, and they were right ahead of me," Weeks said. He will run at Villanova next year. "I knew if I could get ahead by the last stretch, they couldn't get me."
Chris Banks, a 1996 graduate on the last Spartan champion team in 1995 who had recently been inducted to the West Springfield Hall of Fame, wrote to the team, predicting that Oakton may try to make a statement by taking the race out aggressively. The Spartans, in response, laid back and waited until the second half to pursue.
"This course can be unforgiving if you're too aggressive," Pellegrini said. "They ran the course virtually perfectly today."
Stuck got antsy at the halfway mark.
"I went hard down the hill and just floored it," he said.
Lentz tried to go with Stuck and Bond when Stuck was making his move, but shortly after two miles, he felt like he didn't have it anymore. He was trying in vain to put into practice what he had learned during the season:
"Stay mentally in the game, don't think about it too much," in the moment, Lentz said. "Don't let people get away, respond."  
He dropped Lentz, and then Yorktown's Albert Velikonja fell on the way down the two-tiered hill that brings runners down to the last two turns on the course and did not finish. He plans to race the Foot Locker South regional in two weeks.
"Velikonja can close like a freight train, but Sean's no chump," Pellegrini said. 
Clear of any pursuers, Stuck was free to make good on his plans.
"After regionals, I told Pellegrini I wanted to win by 100 meters," he said. "We lost to Oakton because I had a mental lapse, and I wanted to make sure that didn't happen again."
He had held onto that goal for a while. After straining his plantar fascia during a summer workout, he took an entire month off, worrisome for a team that was relying on its top three finishers from the prior year to lead the way.
"I was terrified," Stuck said of the injury. "I couldn't walk for a few days."
But after that month, he came out of his first workout having dropped the rest of the team. That's when he set that goal.
Oakton's runners are setting their own goals. They return all of their scoring runners, just as West Springfield did after losing by six points to W.T. Woodson in 2018. This year, Woodson finished third, led by freshman Caleb Hymans, who ran 16:12 for 13th place overall, eighth among team scorers.
The Cougars left The Plains with the ache of a goal that get exceeded their grasp, and Banks' words were indeed prophetic. Morse and Woodhouse felt they had been too aggressive early.
"I went out too fast instead of sticking with the pack, and then that came back to get me," Woodhouse said.
Morse said the 4:48 first mile split surprised him, though the tailwind on the starting line helped.  
"But once you turned, it hit you straight in the face," he said.
Thanks to the 2020 leap year, they'll both have extra day to prepare and another day to stew in regret, but they have their strategy mapped out already.
"No mercy," Morse said. "We'll just train harder than we did and not let any team get in our way."
Woodhouse said something cryptic about a pineapple.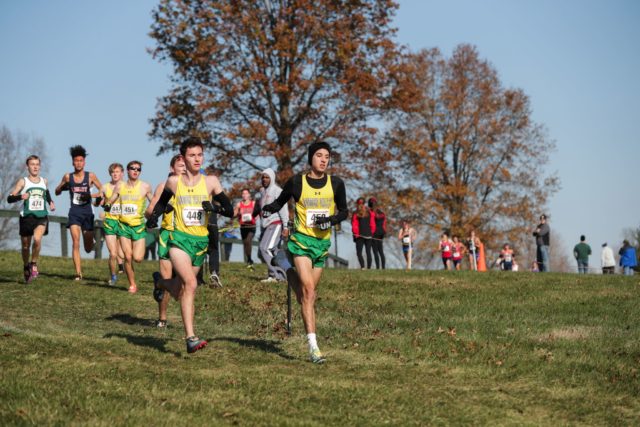 Loudoun Valley set the stage for the Spartan's sweep by going further – sweeping the top four spots overall, and six of the top eight. Senior Carlos Shultz won the individual title in 15:24. As two-time defending Nike Cross Nationals champions, they've become accustomed to focusing beyond the state meet, but taking home a title at Great Meadow is still part of the team's plan.
1.Carlos Shultz  Loudoun Valley 15:24
2.Kellen Hasle Loudoun Valley 15:40
3.Jeremiah Mussmon Loudoun Valley 15:49
1. Loudoun Valley 17
2. Grafton 86
"We get more people to come to this than Oatlands (Invitational, a 20-minute drive)," Coach Marc Hunter said. "We get plenty of parents and families here. The principal shows up, the athletic director shows up. It's special for the school, but for the team it's something we expect to take care of."
This is the fifth straight year the Vikings have won the 4A team and individual  titles, with Drew Hunter (2015), Peter Morris (2016) Sam Affolder (2017-2018). Hunter also won 3A individual titles in 2013 and 2014.
Shultz and senior Kellen Hasle ran ahead at the halfway point, then Shultz ran away for a 16-second win. Behind Hasle, seniors Jeremiah Mussmon and Taylor Ney (both 15:49) ran down Louisa County's Branden Wood and held off Blacksburg's Alistair Bushey to finish third and fourth.
Behind the two non-Vikings, senior Kevin Carlson and junior Matthew Smith finished seventh (16:06) and eighth (16:07), respectively.
"I don't race as much in the middle of the season so I can be ready for November and December," said Shultz, who was the Vikings' top runner at Nike Cross Nationals last year.
Mussmon was the third alternate on the 2018 team. On the 2019 team, he finished third in the state.
"And at my first cross country state meet," he said. "We were so deep last year, I wasn't upset I didn't make the team, and I knew this year it would be all the more special."
Marc Hunter's improvement was the kind of thing, by his telling that makes coaching so satisfying.
"He's made some sacrifices to be where he is, he's eating what's best for him, he's getting his rest, so it's obviously paid off. Those are the little things our program is known for making commitments to doing."
Eyeing a return trip to Portland for Nike Cross Nationals, Hasle, who was an alternate for the 2017 team and a member of the 2018 team, wants his teammates to go in with an air of purpose while maintaining their personalities.
"We don't want to be robots who don't smile," he said. "We take care of business and have fun too. I don't think we can run well unless we have fun. That's what our relationships as teammates have been built on."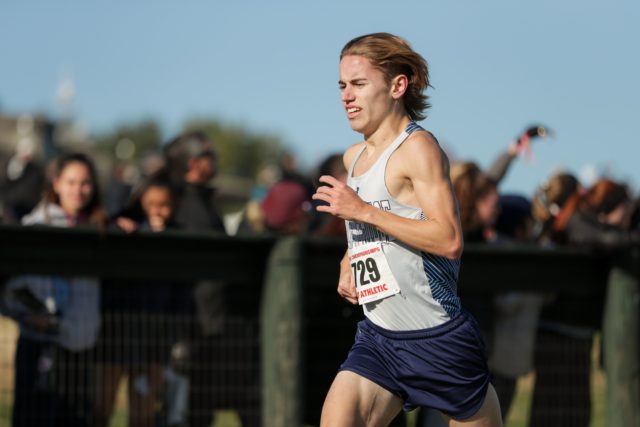 The 5A race featured a strong group of four Northern Virginia boys in the top 10, lead by Stone Bridge senior Tristan Brodie in third, running 15;57. Freedom seniors Daniel Gittelman (fifth in 16:02) and Clark Smith (10th in 16:15) and Briar Woods junior Aidan Nathan (ninth in 16:14) all finished in the top 10. Deep Run senior Colby Burcham won the race in 15:36.
1.Colby Burcham Deep Run 15:36
3.Tristan Brodie Stone Bridge 15:57
5.Daniel Gittelman Freedom 16:02
1.Albemarle 53
3.Freedom 93
"It went right as I planned," Brodie said. "It got tough in the middle, but I know my strength is in the end, so I just held on. I just like to reel people in."
He spent the last year ruing the mistakes that led to him finishing 16th in 2018.
"I let other guys block the wind for me early on," he said. "I remembered how long that finishing stretch is, so I wanted to be ready for that."
He was in fifth heading into that stretch, so he played his cards right.
Gittelman and Smith, along with junior Ryan Borden (14th in 16:19), sophomore Joshua Gittelman (36th in 16:52) and senior Travis Nguyen (49th in 17:07) led Freedom to a third place finish with 93 points, four ahead of Lloyd C. Bird and seven behind Deep Run. Albemarle won with 53 points.
"It was a great year for our guys," Coach Chris Weeks (not that Chris Weeks)," 2016 was the last time we can this close to the podium (top two, teamwise), so to win our first regional title and compete against tough Deep Run and Albemarle teams, I'm proud of them putting some gutsy races out there. I think we ran our hearts out."
Brentsville District (sixth with 149 points) and George Mason (ninth, with 209) raced in the 3A championships at Green Hill Park in Salem, trailing Western Albemarle's 15 points. The Warriors matched Loudoun Valley's perfect team score from 2017, but a non-team scorer split the Western Albemarle's pack.
Junior Charlie Blundell, of first-year school Independence, was Northern Virginia's top finisher in 11th in 16:12. He ran at Rock Ridge last year before redistricting. Senior Andrew Rice led Brentsville with a 17th place finish in 16:16, while junior Colson Board led George Mason in 31st in 16:52. Western Albemarle's Jack Eliason won the race in 15:15.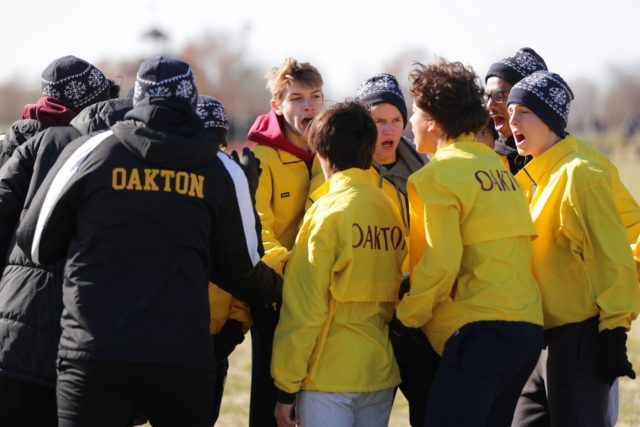 Recent Stories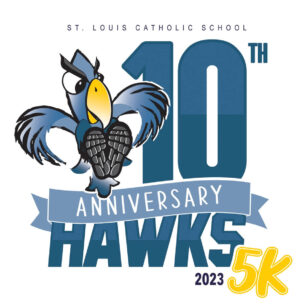 2023 will be the 10 year anniversary of the St. Louis Hawks 5K and Fun Run for Health & Wellness. The USATF certified course runs through the historic Hollin Hills neighborhood in Alexandria, VA.
The Hawks 5K goal, in conjunction