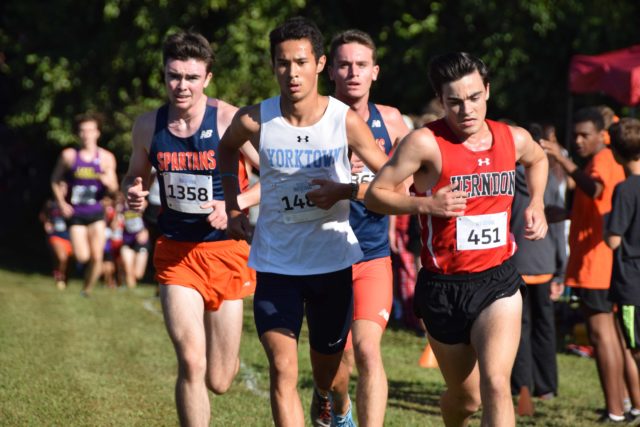 Now that a lot of the Fairfax County running gang was back together at the Monroe Parker Invitational, Albert Velikonja decided to see who had done their homework over the summer. 
A mile and a half in to Burke Lake's 2.98-mile course, he surged, and looked around to see how it all shook out. 
"I wasn't trying to run away with it, I just wanted to see if anyone would come with me," he said. 
Herndon senior Colin McCauley and West Springfield seniors Chris Weeks and Sam Pritchard all joined him in the front.
Monroe Parker Invitational
Sept. 7, 2019
Burke Lake, Va.
2.98 miles
Boys
1.Albert Velikonja Yorktown 15:27
2.Colin McCauley Herndon 15:31
3.Ryan Hamblet Lake Braddock 15:37
1.West Springfield 50
2.Thomas Jefferson 147
3.Herndon 151
Girls
1.Julia Ghiselli Annandale 17:53
2.Amy Herrema West Springfield 18:30
3.Anna Macon Corcoran Yorktown 18:41
1. West Springfield 78
2. Lake Braddock 88
3. Robinson 103
Half a mile later, he took off again, this time only McCauley followed.
"Every surge I made, Colin matched, so I was just going to wait until the last 100 meters and trust my kick," he said. 
That trust paid off in a four second margin of victory for Velikonja (15:27 for Burke Lake). McCauley was fatalistic about the race, but pleased.
"We took it out a lot harder than I expected," he said. "I just wanted to stick up there with those guys and see what we could run. I just wanted to see how long I could hang with Albert — I knew he could probably get me with his kick but I wanted to try."
After increasing his summer mileage to roughly 60 miles a week, McCauley feels capable, if not comfortable, later in the race.
"My form didn't break down like it used to, "he said. "I was tired, but I could keep going."
Behind those two, Lake Braddock senior Ryan Hamblet edged Bishop O'Connell sophomore Yakob Kelley for third in 15:37.
Hamblet was just happy to be racing. Two heart surgeries in the prior 18 months had left him frustrated at times and unable to race at others. Extra tissue in his heart would misfire, driving his heart rate as high as 240 beats per minute. It had caused him to drop out of workouts and, last winter, forced him off the starting line for the regional championship 3200 meters.
He had his first surgery during his sophomore year, starting off a two-month break. The problem was, the doctor said he only needed two weeks to recover.
"It was mental," he said. "I lost motivation and didn't want to come back."
It wasn't his teammates' successes that drew him back, though, but their frustrations.
"I'd hear about how they weren't happy with how their seasons were going but they were still working hard," Hamblet said. "Who was I not to show up to practice?"
He was back on the Lake Braddock varsity team for his junior year, but needed another heart ablation, this time fixing the problem once and for all. He took only the requisite two-week break.
"I was mad at myself for taking so much time off, falling so far behind the first time," he said. 
At Monroe Parker, he got out slow, but once he got back on the road in the second mile, he got focused.
"I just wanted to pick off as many people as I could," he said. "I probably got five or six guys, and running down the O'Connell guy at the end was perfect."
In the end, he had a 20-second improvement on the course from the end of 2018. 
"I've been feeling great recently, so it's a relief to run a race that reflects how I feel," he said.
West Springfield, powered by Pritchard (5th in 15:43), Weeks (6th in 15:45), Lake Braddock transfer Alex Asady (8th in 16:03), Nate Pohlsander (13th in 16:17) and Tyler Weeks (18th in 16:23) won the team title over Thomas Jefferson 50-147 for the Spartans' first win at the meet since 2001.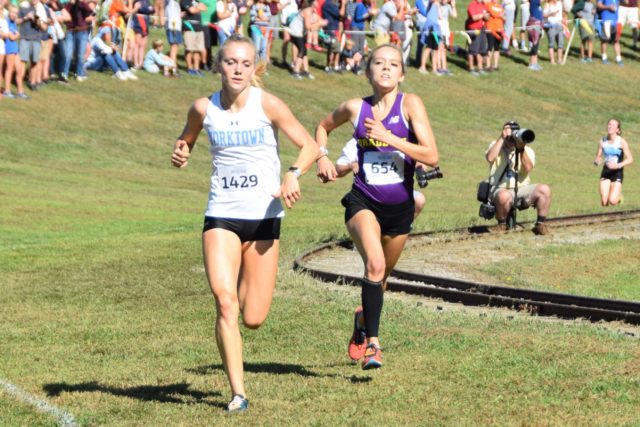 Annandale junior Julia Ghiselli won her third straight Monroe Parker title, a feat last accomplished 20 years ago when Lake Braddock's Kelly Swain finished up her cross country career in 2002. She pulled away in the second mile, with Lake Braddock senior Emilia Doran and Robinson senior Katie Beard in pursuit, and was free by the third mile before finishing in 17:53. Once she hit the second mile mark, she was in the clear, though she wasn't sure, even after the race, if she was actually the winner, owing to a registration confusion. She was.
Behind her, West Springfield senior Amy Herrema charged down five people in the third mile to finish second in 18:30. Behind her, Yorktown sophomore Anna Macon Corcoran also charged the end of the race, but did so with an unorthodox mindset for a cross country race.
"I didn't even think about passing people, I was just trying to run as fast as I could," she said. "I love the 800, so that's my best way to race cross country."
Herrema, Katie Orchard (8th in 19:03), Anna Bock (24th in 19:59) Rachel Mayberry (25th in 19:59) and Haley Goldin (27th in 20:05) combined to score 78, edging Lake Braddock by 10 points and winning the team title for the first time at Monroe Parker.
---
RunWashington is throwing in a season-long surge of cross country coverage. In September, we're featuring our All-RunWashington team. So far we have profiled:
Recent Stories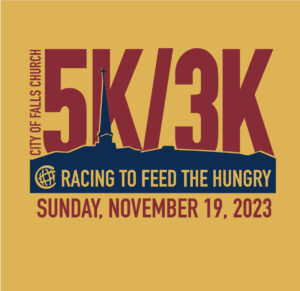 The out and back Falls Church City 5K/3K course is mostly flat on the W&OD Trail starting and finishing at 103 Columbia Street. Overall male and female winners earn free shoes and medals are awarded to all categories. Great family