Three runners with D.C. area ties finished in the top 20 of the Olympic Marathon Trials on a brutally hilly and windy course in Atlanta.
Georgetown alumna Kate Landau was 14th in 2:34:07, passing Oakton and American alumna Keira D'Amato in the last few miles. D'Amato, formerly Carlstrom, was 15th in 2:34:24. Aliphine Tuliamuk won the race in 2:27:23.
Bethany Sachtleben, who hit RunWashington's #TrialsFever triple crown by growing up in Manassas, running at George Mason University and living in Fairfax, overcame a mid-race interruption to finish 18th in 2:36:34.
When she hit mile 11, digestive ills forced her to find a bathroom, and fast. 
"It definitely wasn't something I could keep running with," she said. "I was in the bathroom for maybe 30 seconds at most, but the pack was gone by then. What else are you going to do in that situation…"
She was in the middle of a huge gap in the field, with nobody to help her face the wind, so she went on alone.
"I was trying to be measured in catching people," she said, keeping in mind she had 15 miles to go. "I had never hit the wall before in a marathon, so I guess I had one coming. I thought I was running 7:30 pace for a while."
Landau, the top master in the field at 43, also had a brief stop thanks to some gastrointestinal distress during mile 19. Unlike Sachtleben, she was already on her own, so the break wasn't as devastating. Her recovery during the race addressed what she said, a week before the race, was her weak point.
"I was proud of how mentally tough I was," Landau said. "I got through those issues, wasn't shaken too much. I still didn't run like I was racing people in the last few miles, but I held things together pretty well."
She also had no idea how close she was to the top 10, particularly because several runners in the lead packs dropped out in the last 10k.
Keira D'Amato (15th in 2:34:24) managed to keep the lead pack in sight for the first half of the race, though the course conditions forced her to improvise more than she expected, abandoning her efforts to let her pace dictate her race.
"It was everything I wanted the Olympic Trials to be and everything I feared a marathon would be," she said. "I went for it, but the wind kind of got the best of me.
 "When I got dropped I got dropped hard." 
This spring, she will run a European half marathon and then focus on running the Olympic Trials standard for 10k (31:25).
One month was a significant time frame for Lindsay Carrick, only it went the other direction.
On Jan. 29, her doctor diagnosed a Grade 2 stress reaction in her foot, and she spent a lot of the intervening time in a boot. She started running again Feb. 18 and before the race, she had run only 25 miles all month. But despite that, she ran 2:44:22 for 111th place, less than a minute off of her PR.
Carrick said she had a lot of family support on the course. She just lost her grandmother last week. 
"She was definitely with me every step," Carrick said. 
She said she would have preferred cold or rain to the wind that she and the other runners ended up facing — but that was what they got. 
"The wind was pretty brutal," she said. 
Eleanor Roosevelt alumna Hannah Cocchairo finished 61st in 2:42:02.
The first loop of the course felt deceivingly easy, for her,  but the course's 1389 feet of climbing eventually took its toll on her.
"It was the hardest thing ever,"  she said.
She and Howard County Striders teammate Caroline Bauer (210th in 2:49:20) had rave reviews for the adoring crowds.
"It was better than Boston," Bauer said.
Their Striders teammate Julia Roman-Duval, who also qualified, opted to travel to France for the Paris Marathon, in hopes of making the French Olympic team. The Paris Marathon ended up being cancelled out of fear of the coronavirus.
Robinson alumna Bonnie (Axman) Keating was pleased with her return to the Trials, where she finished 82nd in 2:43:01. She was pleasantly surprised by the early pace, which she estimated at as slow as 6:40 at points of the first mile. 
"That kept people from going out too fast," she said. "You have to stay within your own fitness, I learned that the hard way last time, but it helps when everyone else is doing that, too."
She thought the Atlanta course was favorable compared to the Los Angeles conditions in 2016.
"I think dehydration was harder to deal with than the hills." 
In addition to the wind and hills, the crowded field also made the early part of the race tough, said Caitlyn Tateishi, who lives in D.C. 
She couldn't see the mile markers at times because of all the runners, but she did appreciate the support from the crowds that lined the sides of the road. People were cheering for her and other runners by name because their last names were printed on their bibs. 
Tateishi thinks her hill training helped, but that didn't mean the hills weren't difficult. 
"I don't think there's any replica of 26.2 miles of that," she said. 
Despite the difficulty, she's grateful to have had this experience.
"That was an experience of a lifetime," Tateishi said. She finished 293rd in 2:53:51.
Sykesville's Maura Linde managed a PR, running 2:44:13 for 108th place.
"I just tried to keep smiling and give people thumbs up when I heard my name," she said. "The crowds were awesome."
Lake Braddock alumna Kathy Newberry called it the hardest race she had ever run. As a veteran of several world championship cross country teams and a long racing career, that means something. 
"I thought I was being patient, I never pressed, stayed relaxed, really ran by feel," she said.
She started to pass some people in the last lap but her legs started cramping with four miles to go. She wondered if her turnaround from the Monumental Marathon in November was too close. 
Still, her 2:51:15 finish for 249th place beat her seeding.
"It was not great, but not a total disaster."
Arlington's Sarah Anyan could have benefitted from a longer turnaround from December's California International Marathon, where she sustained a hip injury that compromised her training afterward. She was determined to run, and finish, and she did so in 2:53:53 for 295th place.
For Watkins Mill High School alumna Aileen Barry, the course felt as she expected it would because she expected it to be tough. The Atlanta course wasn't anything like the small rolling hills on Grandma's Marathon, where she qualified.
She tucked in to a pack for the first 16 miles, but found herself battling the rest of the race on her own. She finished 164th in 2:47:20.
"I'm this far," the mother of four told herself during what she described as a grueling last four miles, "and I'm really lucky to be here." She continued passing competitors even as her pace slowed, which helped her to the finish.
Reston's Susanna Sullivan, 20th at the 2016 Trials, was determined to finish despite the race feeling bad from the start. She was 150th in 2:46:39.
"I felt like I did everything I could to prepare, but it was clear pretty early on that it wasn't my day," she said. "Then we had people yelling all kinds of data at us, like they said I was in the top 100 but I felt like I was a lot closer to the back."
She also said the group dynamics were a stark difference from other marathons she has raced.
"It felt like less of a pack than usual," she said. "Usually when we're running in a pack, we're all working together. We just happened to all be running near each other, just suffering miserably together."
She was buoyed by seeing her Capital Area Runners teammates Jillian Pollack (388th in 3:12:11) and Rachel Viger (284th in 2:52:48) as they ran back and forth on Peachtree Street.
Pollack's race didn't go according to plan, but she still said it was an "amazing experience." 
"The plan was to go out slow and then try to pick people off, and I kind of went out slow and then my legs just couldn't take it anymore," said Pollack, who lives in Arlington. 
Pollack's early miles ended up being her faster ones, hitting the half in 1:31:17.  
Competitors ran a course that included three loops. Pollack got passed by the men's leaders — of course not what she wanted, but something that turned out to be interesting, she said. The men's race began 12 minutes before the women's race. 
"While it was pretty lonely, the crowds were just so amazing and everybody was cheering for me," she said. 
McLean's Kelly Calway encountered some GI distress, having to stop during mile nine, but she thought that might have helped her enjoy the experience more once she started running again.
"I'm not sure things would have gone much better without the pit stop," she said. "I trained on a lot of hills, but they were steeper than this. I would have been better off with more long, gradual climbs because that's what ended up being the hardest part."
After dropping out of the 2016 Trials, finishing 269th in 2:52:17 was an achievement.
"Once I knew new it wasn't going to be my day, I just looked around and waved and enjoyed the environment, and I was really happy to have a good experience, even if I didn't run as fast as I wanted," she said. "I got to go out and run with the best women in the country. It felt like a victory lap."
The third loop of the course was a victory lap for Vienna's Perry Shoemaker.
"I finished!" she said, ebulliently, after retrieving some long sleeves after the race.
Injury struck again in her training cycle, this time affecting her back and hamstring, and she couldn't run for a month up until early February. She had little opportunity to run on hills in her buildup to Atlanta, so she set reasonable expectations going into the race.
"I was just here to enjoy it and I did," she said, expressing particular appreciation for her newfound fans. Shoemaker, the oldest competitor in the field at 48 years old, was named in the media guide next to Bernard Lagat, who at 45 years old was the oldest male competitor.
"It was a party for me," Shoemaker said with a smile.
Recent Stories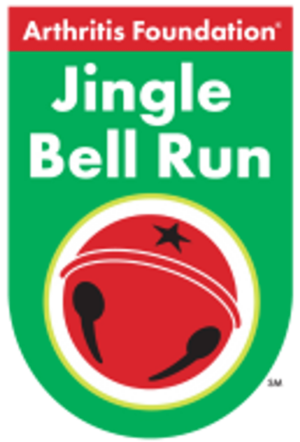 Be part of the original festive race for charity and signature Arthritis Foundation holiday event! Wear your favorite holiday attire and together, we'll jingle all the way to a cure! Register as an individual or bring a team of friends,