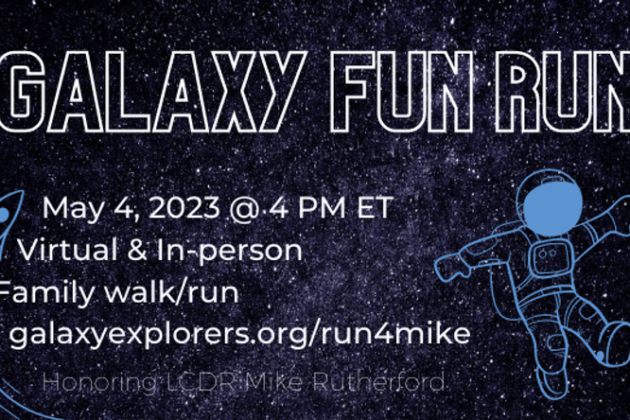 Let's get outside with our friends & families on one of the spaciest days of the year! The first annual Galaxy Fun Run fosters a strong community of space lovers while supporting STEM education. We invite you join in-person in Springfield, VA, or participate virtually on your own run. Your registration includes a tax-deductible donation to Galaxy Explorers' Mike Rutherford Fund.
​This is not a timed race. Walk – jog – run. We ask participants keep aware of others on the trail and maintain their comfortable pace.
In-person runners will meet at Lake Accotink in Springfield, VA and have three trails/distances:
​2KM/1.24 miles | Apollo 8 – 1st mission to carry humans past 2,000KM
2.40 miles | Apollo 11 – 1st mission to carry humans 240k miles to the moon
3.9 miles | Artemis1 – farthest distance travelled by a spacecraft designed to carry humans launch from Complex 39B at Kennedy Space Center
Virtual runners are welcome to participate from their favorite trail! The registration process is the same as in-person, just hit the pavement or trail on May 4 and tag Galaxy Explorers on social to join in! Run with the hashtag: #run4mikerutherford.