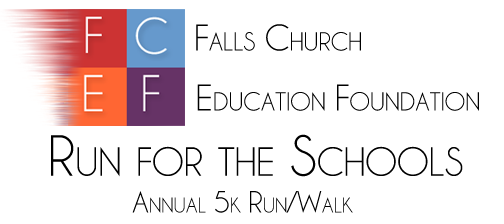 Details for the 2019 RFS:
WHAT: The Falls Church Education Foundation's 15th Annual Run (or walk! or jog! or stroll!) for the Schools
WHEN: Sunday, September 15th – 7:45am warmups; 8:00am race.
WHERE: 300 Park Avenue (between City Hall entrance and the MRS Library)
MAY WE BRING MORE RUNNERS/WALKERS? Please do .. register online before 8pm Thursday, September 12th at fcedf.org/runfortheschools or come to packet pick ups or even at the race day Sunday.
RACE PACKET PICK-UP: Pick up your tshirt, race bib and Tori McKinney – Rock Star Realty swag bag.
* Friday 4 -8pm, location TBD
​
* Saturday 10am- 4pm at the Taste of Falls Church near Cherry Hill Park.
RACE PARKING: available in the parking garage for Kaiser Permanente at 201 N. Washington St., Falls Church at the corner of N. Washington St. and Park Ave. Park on level 2 or above. Please note the race course will be closed so you will not be able to park on the race streets.
WARM UPS: begin at 7:45 AM. Please allow for enough time to park and to get to the starting line on time. The starting line is in the 300 block of Park Ave., between the City Hall and the Library.
RACE: The 5K will begin promptly at 8:00 AM; if you intend to run 7 minute miles or below, please line up at the front. The 1 Mile Run/Walk will begin at 8:05 AM and we ask that you line up at the back of the running pack. The one mile course turns left on Virginia Avenue from Great Falls. Check out the course map.
POST-RACE: Water and fruit will be available at the end of the race, thanks to our sponsors.