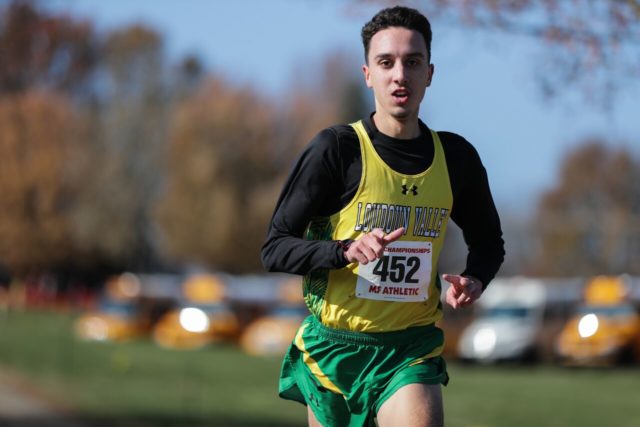 Sam Affolder was hurting in the third mile of Nike Cross Nationals last December.
After leading Loudoun Valley throughout the year in defense of its 2017 first-ever national title, things were looking grim for the senior. Most runners behind him saw him as a target to pass, but Carlos Shultz saw him and knew that's where he needed to be.
"I saw Sam up there, and I knew if he was falling off, I couldn't be 'back there,'" he said.
Coach Marc Hunter saw it.
"Sam was toast, and Carlos was encouraging him," he said. "He really helped him in that last mile."
The pair finished together 30th and 31st, and Shultz found himself the unlikely top finisher.
"He's a big race runner," Hunter said. "When there's something on the line, he finds a way to push a little more."
This was two years after nearly 30 spots separated the two at the Pennsylvania state 3A championships, when a Affolder was running for Carlisle High School and Shultz ran for Conestoga. Shultz's 29th place finish, as the top freshman in the Keystone state, came dispite terrible running form, though a dad who ran at the University of Pennsylvania and a mother who ran for Millersville University certainly helped him find his sport. He fixed that over the winter, but not so much out of a desire to refine his form as it was to stay out of the cold.
"I ran barefoot on the treadmill everyday of indoor track and a month into outdoor track," he said. "I just hate the cold, but I'm lucky I didn't get injured."
But it worked.
"His biomechanics are excellent," Joan Hunter said. "I don't think I've seen a high school runner move like that."
He went out too hard at the Pennsylvania state meet his sophomore year, running for Phoenixville High School, and finished 21st. After a brief track season at Bishop Shanahan in Pennsylvania, he moved to Virginia, where he opened his junior season with a win at the Great Meadow Invitational. A long season of midpack running let him enjoy a luxury he hadn't known before – teammates.
"I've never had other guys who were really talented and all focused on doing well as a team," he said. "That makes a big difference when you think about what your race adds up to."
And with two Nike Cross Nationals titles to defend, that team motivation helps awaken a part of him he'd rather let hibernate, maybe play some paintball.
"It's easy to run alone when it's hot and the weather is great, but as soon as it gets cold it's nice to have other people with you," he said.
After hanging out in the back of the Vikings' pack as the fifth man in 2018, he won the Virginia 4A championship in mid-November, as he started peaking for the season.
"NXN is all that matters," he said at the time. "I'm okay hanging back and running a little slower early on in the season if it means running faster in December, staying fresh."
He'll be racing in the cold again, because the senior-laden Vikings qualified for their third straight NXN race Dec. 7 in Portland, Ore., with Shultz leading the way in fifth place at the Southeast regional meet, Kellen Hasle in 14th, Kevin Carlson in 21st, Jeremiah Mussman in 38th and Mateo Barreto in 44th.
He doesn't have any specific goals, just as long as Loudoun Valley wins. They'll be going up against California's Great Oak, which won the Great American Cross Country Festival in early October 69-108.
Loudoun Valley's girls will also be going to nationals following their own win at the Southeast regional meet. Sophomore Ava Gordon finished fourth, junior Ricky Fetterolf finished eighth, senior Elise Abbe finished 14th, senior Kyra Holland finished 37th and freshman Scarlet Fetterolf finished 38th. Senior Ally Talley wasn't far back in 47th.
West Springfield senior Sean Stuck qualified as an individual.
At two different Foot Locker regional meets, three local runners qualfiied for the national finals Dec. 14 in San Diego.  John Champe senior Bethany Graham finished third in the South region and Walter Johnson senior Jenna Goldberg finished fifth in the Northeast region. Juliette Whittaker, who lives in Laurel but attends Mount de Sales Academy in Catonsville, finished seventh in the Northeast. St. Albans junior Damian Hackett was two places away in the Northeast region.
---
RunWashington is throwing in a season-long surge of cross country coverage. We're featuring our All-RunWashington team. So far we have profiled:
Recent Stories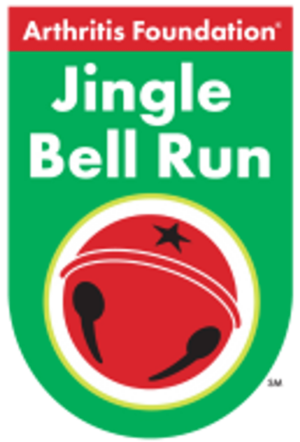 Be part of the original festive race for charity and signature Arthritis Foundation holiday event! Wear your favorite holiday attire and together, we'll jingle all the way to a cure! Register as an individual or bring a team of friends,